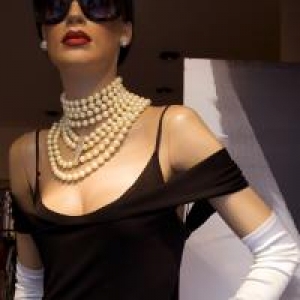 Software developers are not usually called upon to provide fashion tips to accompany the technology they create—but hey, flexibility goes with the job. After all, technology product previews aren't usually part of New York Fashion Week, one of the biggest global fashion events of the year, or covered by the likes of Women's Wear Daily either.
But technology intersects with most areas in our lives, and now it includes our eyewear. Here comes Google Glass.
Dubbed "wearable computing" and "augmented reality glasses," Project Glass is a technology that Google cofounder Sergey Brin hopes we will be wearing in the form of half-glasses possibly next year, although a firm launch date has not been announced.
Glass by Google enhanced-reality eyewear was worn by runway models at the iconic fashion designer Diane von Furstenberg's Spring 2013 show.
Is this brilliant marketing? When you introduce a technology product at a fashion show, sometimes you have to adjust your expectations when the reviews come in.
For example, a fashion journalist referred to "those weird pseudo-glasses thingies" in the Google Glasses runway review in the Fashion & Style section of The New York Times and noted, "They look like something from 'Star Trek,' with a tiny camera built into the frames and a little bitty monitor in the corner for all those people who are not satisfied looking at the world solely through their hand-held devices. Supposedly, they can give you directions to the nearest Starbucks."
A more traditional review came from The Wall Street Journal's Spencer Ante, who wrote that while they had long-term potential, "Google's glasses are escaping from the laboratory. But they aren't ready for the real world yet."
However, Forbes offered some fashion tips on what might look good with Glass:
Bright colors. Browns, olives, maroons, and earth tones won't look right with the vibrant palette of the rims.
Black. Black goes with everything. It's practical, modern, sleek and chic.
High boots or high heels. Make sure they're tight, not slouchy, around the ankle and calf. Keep things structured with these glasses. Don't do anything with stitching or a clunky heel.
Text while driving and you'll get a ticket. But can you drive while wearing Google Glass?
Enjoying TechWell's curated stories? Get regular email updates:
Pamela Rentz is a freelance writer and editor who has been working in marketing communications and PR for technology—from startups to Fortune 100 outfits—for more than eighteen years. She's a regular contributor to TechWell.com and GardenTraveler.com. She's also a Georgia Master Gardener and, when not writing, can usually be found in a garden somewhere.