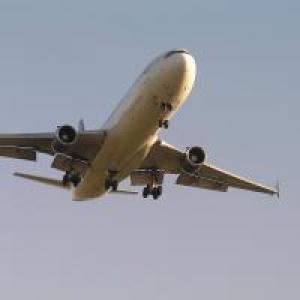 Turning off personal electronic devices (PEDs) during takeoff and landing has long been a source of annoyance for many air travelers. Alex Baldwin, for one, made headlines when he missed a flight because he supposedly refused to turn off his phone. However, relief may be in sight.
The Federal Aviation Administration announced that it is considering whether it's really necessary to turn off your iPad or laptop—or iPod, tablet, smartphone, Kindle, Nook, electronic games, compact-disc players, or other electronic devices.
The FAA recently announced that the agency is forming a government-industry group to assess current policies and procedures to determine when these devices can be used safely during flight.
"With so many different types of devices available, we recognize that this is an issue of consumer interest," said Transportation Secretary Ray LaHood. "Safety is our highest priority, and we must set appropriate standards as we help the industry consider when passengers can use the latest technologies safely during a flight."
Among the issues to be examined will be the testing methods aircraft operators use to determine which new technologies passengers can safely use aboard aircraft and when they can use them. The group will also consider establishing technology standards for using PEDs during any phase of flight. The group's recommendations will be presented to the FAA.
As the Associated Press reported: "The FAA doesn't actually ban the devices. But it says airlines can only allow devices that have been tested and proven not to interfere with the plane's electronics. With thousands of devices on the market and new ones coming out each day, airlines simply ban them all during takeoff and landing."
Established through an Aviation Rulemaking Committee, the government–industry group will be formally established this fall and will meet for six months. Representatives will come from the mobile technology and aviation manufacturing industries, pilot and flight attendant groups, airlines, and passenger associations.
As the first step in gathering information for the working group, the FAA is seeking input from the public. If you're interested in letting the FAA know how you feel, send comments identified by docket number FAA-2012-0752 using any of the following methods:
Email: Submit your comments to

PEDcomment@faa.gov


Federal eRulemaking Portal: Go to

www.regulations.gov, 

and follow the online instructions for sending your comments electronically

Mail: Send comments to Docket Operations, M-30; U.S. Department of Transportation (DOT), 1200 New Jersey Avenue SE, Room W12-140, West Building Ground Floor, Washington, DC 20590-0001

Fax: Fax comments to Docket Operations at 202.493.2251
Be aware that the FAA will post all comments it receives, without change, to www.regulations.gov, including any personal information the commenter provides. 
Even though you (and Alec Baldwin) may be able to play Words with Friends in the future while flying, you still won't be placing any calls to any of your buddies. According to the FAA announcement, "The group will not consider the airborne use of cell phones for voice communications during flight." 
Enjoying TechWell's curated stories? Get regular email updates:
Pamela Rentz is a freelance writer and editor who has been working in marketing communications and PR for technology—from startups to Fortune 100 outfits—for more than eighteen years. She's a regular contributor to TechWell.com and GardenTraveler.com. She's also a Georgia Master Gardener and, when not writing, can usually be found in a garden somewhere.