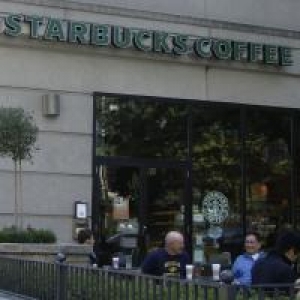 In another step toward making the mobile wallet the one the consumer ultimately reaches for, the Seattle-based coffee giant Starbucks recently announced at its global leadership conference that customers will be able to use the Square Wallet app to pay with their smartphones at US Starbucks stores beginning in early November.
If they don't know where the nearest Starbucks is located, they can use the Square directory to locate the closest one. And by next summer, customers will not only be able to pay for their grande caramel macchiato using their smartphone, but they'll be able to tip the friendly barista as well.
While not currently linked to the Starbucks loyalty program, Square links to consumers' credit and debit cards. According to Reuters, eventually Square's GPS technology will detect the customer's phone in the store, allowing customers to simply speak their name at checkout. With name and photo appearing on the register, the cashier confirms and then completes the sale.
Starbucks clearly sees the advantages to making it convenient for its customers to make mobile payments at the company's 7,000 US stores. In August 2012, the Wall Street Journal reported that Starbucks will invest $25 million in the San Francisco mobile payment start-up Square, and Starbucks' chief executive will join Square's board of directors. Square was founded by Jack Dorsey, who also co-founded Twitter.
The company announced that the Starbucks mobile app now integrates with Apple's Passbook functionality, allowing customers' Starbucks Cards to appear on their iPhone screen automatically after they enter a Starbucks store.
According to Starbucks, since launching its own mobile payment app in January 2011, the company has processed more than 70 million mobile payment transactions. The Square Wallet app will be in addition to Starbucks' existing mobile payment options.
Enjoying TechWell's curated stories? Get regular email updates:
Pamela Rentz is a freelance writer and editor who has been working in marketing communications and PR for technology—from startups to Fortune 100 outfits—for more than eighteen years. She's a regular contributor to TechWell.com and GardenTraveler.com. She's also a Georgia Master Gardener and, when not writing, can usually be found in a garden somewhere.