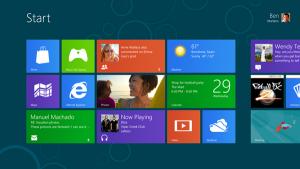 Whether you are ready or not, Windows 8 is here, making splashes across the tech media this week. So far, the reactions to the new version of Microsoft's flagship operating system have been mixed, with pundits declaring that the new user interface is "touch-friendly" but also involves "a steep learning curve," as The Verge reports.
So what's new regarding the software aspect of the new Windows? Well, for starters, Microsoft is placing bets that the new OS will appeal to both tablet and PC users with a newly redesigned home screen that sort of resembles a combination of the old Mahjong computer game with the color scheme of Apple's iPod commercials.
In order to open and manipulate the programs or apps on your screen, you need to "slide" or "swipe" at the app, which will either trigger the app to open up or allow you to arrange it for some interesting placements on your screen.
Check out this short video on how you can run multiple apps on the same screen using the newly created sliding touch interface:
Unfortunately, Venture Beat claims that while the new gesture-oriented interface seems to work swimmingly with tablets (or with Microsoft's Surface), it's not very friendly with desktop computers. The review says that the new layout means that "a limited number of options appear at the bottom of the screen," which can create a "tedious" experience for mouse-users who need to mouse over to the bottom to select those options.
Regarding apps and app development, the general consensus among reviewers is that Windows 8 is sorely lacking in apps, which The New York Times says hovers around 3,500 and many (not including Facebook or Spotify) are "bare-bones or junky."
On the other hand, ZDNet counters this perceived dilemma of limited apps by saying that the current app-count won't matter once high-quality apps enter the Microsoft market. However, that might not be the case as this InformationWeek story highlights one struggling developer's ordeal to get his app approved by Microsoft. The take away from the article: The process is very, very slow.
As far as security goes, Windows 8 seems a lot more secure than its predecessor, according to PCWorld, as the new OS was built to "detect malware before it has a chance to run." Hackers who hope to hijack computers via rootkits should be prevented from doing so as Microsoft has come up with a way that "makes loading rootkits more difficult by requiring that the initial boot up code be digitally signed with a certificate derived from a key in the UEFI firmware."
Enjoying TechWell's curated stories? Get regular email updates:
Jonathan Vanian is an online editor who edits, writes, interviews, and helps turn the many cranks at StickyMinds, TechWell, Agile Journal, and CM Crossroads. He has worked for newspapers, websites, and a magazine, and is not as scared of the demise of the written word as others may appear to be. Software and high technology never cease to amaze him.