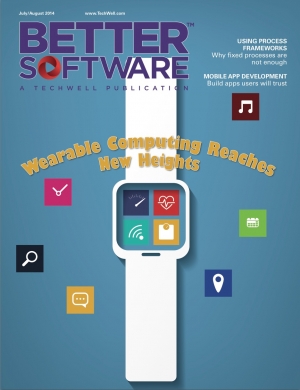 Breaking away from the typical article content, two of the four feature articles in this issue explore the next wave of computing: mobile and wearable intelligent devices. Rather than simply reporting on these trends, the authors write about how mobile computing and the wave of the Internet of Things bring new experiences and challenges to typical software development.
In fact, I'd go so far as to say that our approaches to delivering quality products are going to be tested with a broader Internet of Everything! Just because these devices are small in size doesn't mean the planning, development, risk management, and validation effort of project teams don't become even more complicated.
One of the articles presents the perspective that even with agile, your team can become bogged down with fixed processes. You'll learn that adopting an evolutionary learning process framework may be a better way to get your team into the "flow." From a personnel motivation viewpoint, an article presenting the perspective of T-shaped and Pi-shaped characteristics of your team—span of knowledge, ability to collaborate, and depth of expertise—play a significant role in how effectively your team performs.
The regular Better Software columns provide some interesting perspectives on how a team's attention to quality requires cadence and how continuous integration and validation are critical for DevOps.
Better Software is one of the few remaining periodicals dedicated to giving advice on improving your software development process. Please help spread the word by telling your friends, coworkers, suppliers, and management about the magazine and by sharing this link with them: www.stickyminds.com/better-software-magazine. Subscriptions are free to qualified professionals. 
Let us and our authors know what you think of the articles. I sincerely hope you enjoy this issue!
Enjoying TechWell's curated stories? Get regular email updates:
Ken is the editor for Better Software magazine, a frequent guest writer for http://www.projectmanagement.com, and managing director of Leading Software Maniacs (LSM). With more than twenty-five years of software development executive leadership and training experience, Ken has led commercial software teams at Software Publishing, Data General, embedded systems software companies, and enterprise software suppliers. He is an active PMI member, Project Management Professional certified, a Certified ScrumMaster, and the author of the project leadership books Managing Software Maniacs, Principles of Software Development Leadership, and I'm Not God, I'm Just a Project Manager.