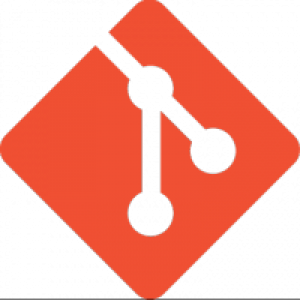 Git Adoption Continues to Grow
Git, the world's leading distributed version control system (DVCS), establishes software revision control through an architecture that allows full copies of the source code history to be distributed to every developer's desktop. Developers praise Git for its flexibility, local access speed, and handling of branching and merging. According to the latest Eclipse developer survey, Git's 27 percent market share makes it the second (to Subversion) most popular source code management tool.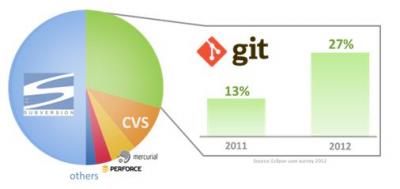 1Eclipse Community Survey 2012
Enterprise Git: Promises and Pitfalls
Due to its flexibility and speed, Git is popular with individual developers, small enterprises, and workgroups. Many larger and geographically-distributed enterprises believe that Git holds promise for increased developer satisfaction and productivity with faster time-to-market for new applications. 
For most enterprises, however, effective management of Git is a challenge. According to Gartner (2011): "The adoption of DVCS has accelerated in small teams but is moving more slowly in enterprise settings." In 2012 CollabNet conducted a software configuration management (SCM) survey that confirms the findings that enterprise level organizations are moving slowly toward Git implementation. User polls identified the top challenges associated with enterprise Git deployments to be security, scalability, and compliance to enterprise and industry standards. 
Many enterprises have been hesitant to endorse Git due to security and governance concerns and to worries about lower productivity. Despite these concerns, pockets of dev teams within many organizations are already using Git, thereby exacerbating the problems concerning security and governance.
Enterprise-hardened Git with TeamForge
More recently, technical innovations and emerging best practices provide additional options to manage Git in the enterprise. Now organizations can realize all the benefits of working with Git while ensuring they meet their most stringent enterprise security, scalability, and standards requirements. 
With CollabNet TeamForge, enterprises are safe to endorse Git as a corporate SCM standard. Or if they prefer, they can deploy a hybrid SCM strategy, managing Git in parallel with Subversion, even within individual software projects. Unique to the industry, TeamForge provides the flexibility that enables enterprises to choose the SCM implementation that best fits their needs. Whatever their choice, TeamForge provides a secure, scalable, and standards-compliant platform for enterprise-wide Git deployments. 
For example: NXP Semiconductors N.V. (NASDAQ: NXPI) provides High Performance Mixed Signal and Standard Product solutions that leverage its leading RF, Analog, Power Management, Interface, Security, and Digital Processing expertise. With TeamForge, they found a solution to manage Git and Subversion with one common platform, integrating Android mobile development with traditional software projects. Watch the video
TeamForge's enterprise Git solution includes a set of integrated tools including Gerrit (an open source Google project for online code reviews and access control) and Gitweb.
For more information on enterprise Git and TeamForge, visit the CollabNet website.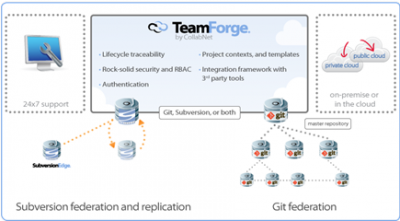 With one platform, TeamForge enables customers to centrally manage Git standalone or side-by-side with Subversion.
Enjoying TechWell's curated stories? Get regular email updates: