How to Hold On to Your Job during a Merger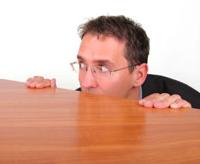 First the bad news: There is no sure way to survive a merger Functional roles, such as HR or finance, are typically the first to be streamlined since they tend to be duplicate roles. Furthermore, neither seniority nor talent makes you a shoo-in; in fact, they can work against you.
But if you want to hang on to your job, what can you do? It's important to be seen as a team player, not a complainer. Volunteer to serve on an integration team. Promote your capabilities and accomplishments. Recognize that ultimately, you're on your own; you can't rely on your boss.
Patience is critical. IT leaders in particular need to take time to understand the two separate organizational cultures and figure out how to gradually merge them. In doing so, stress the positive. For example, if you can hold out hope that people will have the opportunity to take on new roles or work on new systems, you may be able to reduce the number of IT professionals who bail out in the wake of a merger.
Given the likelihood that the new owners will impose their way of doing business, learn everything you can about the new company. Get to know the new managers. Don't slack off. Focus on doing your job well, perhaps even putting in extra hours so your higher-ups see you as indispensable.
Of course, nobody is truly indispensable, and no job is guaranteed. But to improve the odds that you're seen as valuable, consider accepting a high-visibility, voluntary in-house position writing articles for the company newsletter or taking on other roles that offer opportunities for exposure to decision makers. Of course, if you can do something that saves the company money, you'll be seen as too valuable to be dismissed.
In addition, pay attention to people who play politics well and whose budgets are approved. Get yourself noticed by new management. Don't be deterred if your co-workers are avoiding contact with the new bosses; this is the time to be aggressive.
And finally, prepare your elevator pitch. Not the quick blip that tells management what you do, but the much better quick blip about how you can save the merged company money. Impress your superiors about the big bucks you can save, and you'll significantly improve the odds that your job is secure—or at least as secure as any job is these days.