DevOps and the US Presidential Election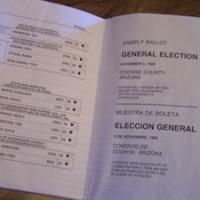 Voters in the United States are watching the 2012 presidential election with great interest. Much is at stake with this election, including what some observers say is the future of capitalism.
Emotions are running high with many accusations of voter fraud. At the same time, incidents involving voter machine software glitches are raising concerns that some voting machines may be rigged. These same machines need to be upgraded on a regular basis. In once such incident, a voting machine company could have learned a lesson on the DevOps approach to improved communications.
Indiana State elections officials say they're upset that Indiana-based MicroVote General didn't tell them sooner about software problems on 5,000 machines, used in forty-seven Indiana counties, that won't allow voters to cast a straight-party ballot. The company disabled the straight-party voting function so the machines could be certified for use in the primary election but didn't communicate with election officials.
Voter machine problems are not unique to Indiana with reports that only five US states are able to handle voting machine errors. Other challenges include incidents where voting machines failed machine quality assurance tests. In Florida, officials are hoping to experiment with 600 new lever voting machines.
Confidence is so low that voting machines are being compared to Las Vegas-based slot machines with concerns about these machines being used to steal the election. It is worth noting that slot machines glitches have led to problems including patrons being charged criminally with taking advantage of software-related slot machine glitches.
There, of course, will be continued scrutiny of both the American elections and also the technologies employed to support the electoral system.
Let's hope that both government agencies and the private firms that support them realize the importance of using modern software and systems development methodologies like DevOps.
Up Next