Internal Social Media and the Business Analyst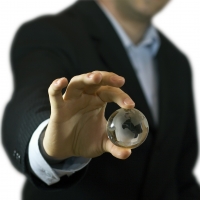 In the Harvard Business Review article "Three Examples of New Process Strategy," Brad Power outlines three fundamental ways that organizations can improve their processes. He mentions one particularly innovative example, where an organization used internal social media to engage with its front-line staff to understand the faults with a particular process and determine how the process could be improved.
This example really resonated with me. I've long found that the people who really know how business processes work are those that actually operate them. An informed and empowered front-line worker can often spot opportunities for incremental improvement that otherwise might have been missed. This philosophy of staff engagement is key to the Kaizen continuous improvement methodology made popular by Toyota and the lean movement. 
As a business analyst and consultant I've spent many hours observing and interviewing front-line staff, mapping processes, and improving processes. Brad Power's article has made me question whether there is a better and more effective way of reaching out to stakeholders, such as front-line staff.
Not restricted to process analysis, it raises the question: "Is there a bigger place for internal social networks in business analysis?" Certainly the availability of internal social networks has grown significantly in the past few years—with solutions like Yammer and Chatter offering a free entry-point.
My conclusion is yes; internal social networks could really help in these situations. I should stress that I don't think social media will ever replace face-to-face interviews, workshops, or other requirements elicitation techniques, but I can envisage a situation where they supplement them.
Imagine the scenario: You're starting a project, and you need to know more about a business area. Internal social media could help you find your stakeholders and might allow you to set up a first tentative meeting—and start to build rapport—in record time.
Or perhaps you need to know why a particular process operates in a particular way. The network could provide a way of asking an engaged stakeholder group without having to restrict your request to people that you know. Or perhaps you need to know which areas are affected by a particular process/system change. If no documentation exists, you could put a request out via the network.
Clearly, engaging stakeholders this way is only part of the solution. The reality is that internal social media is unlikely to reach a 100 percent level of adoption, but I believe it can provide a great way to find valuable titbits of information and uncover stakeholders who haven't yet been identified by the project team.
Not only that, it's a great way of keeping stakeholders engaged and updated about the project. Better involvement and engagement leads to better adoption.
I will certainly be considering the role of corporate social media networks for future projects!
Have you used internal/corporate social networks in your role as a business analyst? How successful was this? Please add a comment below.
Up Next