Virtual Training Made Easy in the Cloud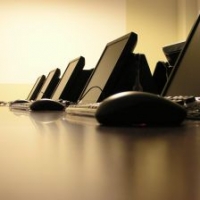 Training organizations are always looking to provide software and technical training for employees and customers under the constraint of reduced budgets. More frequently, enterprises are choosing not to travel to remote training facilities and instead opt for less training or more cost-effective approaches. And of the more cost-effective approaches, one of the most viable options has become virtual training through cloud computing.
Traditionally, the emulation of a complex software application requires a training environment with multiple machines, specialized virtualization software, and complex IT infrastructure along with the skilled technical staff required to maintain it.
Since cloud environments make computing resources available on demand, instructors have access to a large, shared pool of virtual machines that can be accessed whenever and wherever they are required. Using self-service classroom management applications, instructors and lab administrators can set up and tear down environments in minutes instead of manually configuring labs.
What questions and concerns should be raised by an organization interested in transitioning to cloud-based virtual training? Here is a core list:
Name your requirements
Set the baseline: compatibility and cost
Establish a technical fit
Ask use case-specific questions
Scope the pricing conversation
In addition, transitioning organizations can benefit from understanding the issues raised in
Cloud Computing: More to Consider Than Just Security
. The article covers additional concerns like implementation and timelines, change management, and governance—all areas in which a cloud service provider should be willing to offer support.
Integration, privacy, and security are also considerations for the cloud-based training approach. The white paper
Cloud Computing: An Evolving Infrastructure for Learning
intelligently discusses these issues and offers advice from experts in the industry. With preparation, any traditional training organization can transition to
virtual training
.
Is your organization considering this move? Are there any concerns holding you back? Let us hear from you in the Comments below.
Up Next