Michigan's Auto Tech Hub Is Speeding Up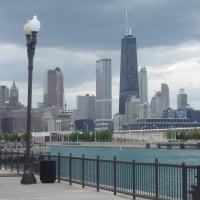 The gauge on the Motor City may be hovering perilously close to empty, but within commuting distance of Detroit, there's a high-tech automotive hub growing under the radar in nearby Ann Arbor. 
Most recently, Silicon Valley-based NVIDIA announced the opening of the new NVIDIA Technology Center—equipped with a drive-in garage—in Ann Arbor. NVIDIA joins the ranks of giants Microsoft and Google, along with scores of start-ups.
"A number of our employees live in the area and already work closely with car companies. Chrysler, Ford and GM use NVIDIA products to design, style and build their cars and trucks," writes NVIDIA's Director of Marketing Danny Shapiro, who is responsible for automotive solutions, in the company's blog. "Our new facility will help our growing team of Michigan-based engineers and executives work with automakers and suppliers to develop next-generation infotainment, navigation and driver assistance programs – all of which make driving more enjoyable and safer."
The advent of the connected car and in-vehicle user interfaces and applications has changed the design and manufacturing of automobiles, so it makes sense to locate some of these research and development centers for the automotive sector in southeastern Michigan. 
Additionally, Ann Arbor is home to the highly regarded University of Michigan Transportation Research Institute, winner of a $14.9 million contract from the U.S. Department of Transportation to conduct a safety pilot model deployment of Vehicle-to-Vehicle (V2V) and Vehicle-to-Infrastructure (V2I) safety applications.
ABC News reports that during this year-long safety experiment with cars that "talk to one another," approximately 2,800 cars, trucks, and transit buses on the streets of Ann Arbor are equipped with technologies to alert drivers to potential hazards, such as sudden stops with a potential risk of collision, vehicles in their blind spots when changing lanes, or a potential hazard in an approaching intersection. 
And according to The New York Times, three Detroit automakers—General Motors, The Ford Motor Company, and The Chrysler Group—are also actively recruiting software developers and information technology specialists who can work on developing automotive apps. 
The New York Times article quotes an economic researcher at the University of Michigan, who acknowledged that while Michigan may not be "the hippest place for young technology geeks," the upside is that the growing market for in-vehicle applications offers a "substantial job generator with high-end pay."  
Many are hoping that the Ann Arbor automotive tech hub will help get the Motor City rolling again.