The Rationale behind a Company's Geographical Diversification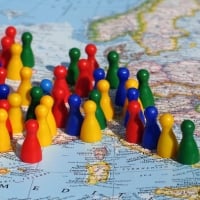 A solid product idea, a well-planned execution strategy, skilled resources, and the right financial backing are some of the core elements in successfully establishing a product company. While there are economies of scale in a centralized operational setup, after a certain point in time companies venture into geographical diversification for continued success.
The drivers behind the choice of a certain geography for such diversification are often straightforward to comprehend. But sometimes, especially when a competitive edge is secretly being built, some of these location choices may be intriguing to the outside world—until there is full visibility about why those places were chosen or what the focus of development is in such offices.
With Amazon's huge presence in Seattle, why would Amazon position Lab 126 in the Silicon Valley to the extent that Jeff Bezos spent this summer in California working with the teams there? Why would Microsoft build its presence in California when it has its roots strong in Seattle? Why would Amazon and Apple look at building their speech technology skills in Boston?
Positioning to source the right talent is one of the first reasons that one would think of in such diversification strategies, but clearly there is more to it. Other important drivers in choosing one location over another include proximity to end users (especially in cases of small businesses, called geo-targeting), technology advantage in being closer to the established players, growth from an impending merger and acquisition, reducing operational costs, and trying to position the company as an underdog.
If we look at Apple's diversification, another interesting rationale emerges: Apple appears to be expanding in Boston not just to leverage students from MIT for their speech technology research but more importantly to come back to Nuance's backyard to reduce or even sever their dependence on Nuance for speech recognition. 
Amazon appears to be investing in the same technology in the same region, which gives us yet another rationale of companies attempting to build a certain domain expertise in a specified region. Boston has several other small yet strong players in the speech technology area, which is an important reason for even established players to build their base in this up and coming domain.
While in all these scenarios there are multiple sets of technical and competitive reasons why diversification happens, there are softer positives as well. It is good for the organization to build a broader base that provides its employees a choice, not just in the groups and technologies in which they work but also in various locations from which to choose.
Diversification helps local economies grow rather than creating monopolies concentrated in just one region. Globalization brings varied benefits, and one aspect of globalization is the diversification strategy benefiting organizations, employees, and local economies.