How Many Apps Is Too Many in an App Portfolio?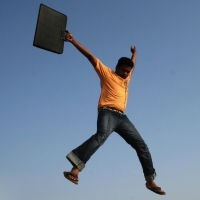 Would it make sense to call the list of applications on a device an app portfolio? There are mobile application portfolio solutions available in the market to empower users to manage mobile applications on devices.
Think of a suite of mobile applications as being similar to an investment portfolio. The mobile portfolio does not need as intense an ongoing management as that of investments, but it is becoming increasingly important to make educated decisions about which applications to install, to monitor usage patterns, and to periodically revisit the list to clean up older applications and make way for newer ones—especially given the mind boggling app statistics every year.
A recent survey indicates that the number of applications people install often runs into the hundreds, while actual regular usage is often a much lower number. It is obvious that newer apps are flooding the marketplace on a daily basis across mobile platforms, and about 800 applications are being downloaded every second. Apps of all kinds have their own place in app stores.
Patents for new apps continue to flow in on a frequent basis, such as the one from Google for splitting restaurant bills. With so much buzz around apps among all entities—app stores, app developers, and end users—are we heading into an app bubble that is waiting to burst? What are the checks and balances to maintain a neutral stance on app management among all of these entities?
App stores have stringent checks to gauge whether new applications meet their requirements, and sometimes even approved applications are yanked out of the store within the first few days of their release. App developers are obviously not looking to just make money by beefing up the quantity of applications they build; they are ideating on real world user problems that their applications would solve.
Since app developers are often freelance, they are forced to wear multiple hats in the app development process—design, architecture, development, testing, deployment, product management, etc. When managing app portfolios, end users need to be their own project manager. They need to periodically evaluate the value of each application to compare it with other solutions in the marketplace, the device resource usage from the application, and its cost—all to justify the overall ROI in having it in the suite of apps.
At the end of the day, there is no right or wrong answer to "How many apps is too many in an app portfolio?" It is the ROI that matters, and this is a justification that the end user has to provide periodically.