E-Commerce Gives the USPS a Facelift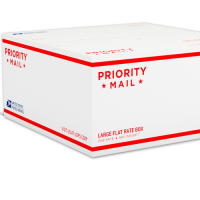 E-commerce has steadily grown in size since the days of the dot com revolution. It has outlived the burst of the dot com bubble and continues to grow leaps and bounds each day, crossing the $1 trillion mark in 2012 and expected to reach $1.298 trillion in 2013.
Amazon.com is undoubtedly the most powerful online retail giant in the United States today. Globally speaking, it accounts for 5.1 percent of total e-commerce revenue. Of the many positive impacts such a booming growth has had on both end users and varied partnering organizations, the United States Postal Service (USPS) is one of the organizations that stands to benefit greatly.
Technology has completely revolutionized the way people communicate and has brought global users together, resulting in a significant falling demand for postal mail. Paperless bills, emails, applications such as Skype and Whatsapp, and social networking-powered organizational promotions have largely taken over the communication space—leaving behind a very miniscule amount of interaction to happen via physical postal options.
To further worsen the decreasing demand, stiff competition from private carriers such as FedEx and UPS have recently put USPS in a very troubled spot. To alleviate this, USPS has been working out new partnerships with private carriers in an attempt to restructure its business model.
A few months ago, USPS was contemplating service shutdown on Saturdays to help reduce some of its bleeding costs and losses. Amid all of this turmoil, Amazon.com recently announced a partnership with USPS to ship to some of its Prime members on Sundays. This is a huge leap forward for an organization that was planning on shrinking its services.
While Amazon.com is a clear trendsetter here, USPS and other carriers have enough reason to be excited since other e-commerce players are also following suit. Target has expressed intentions to invest more, focus on beefing up its technology, and offer services such as free shipping, rather than focusing on its brick and mortar stores.
In the retail industry it is all about customer experience and delight. A brick and mortar store that does not carry the specific product that the customer wants is often happy to ship it free of charge directly to the customer, which translates into more business for the postal carriers.
Collectively speaking, while advancements fostered by technology have greatly impacted physical mail, it is that same technology that has made e-commerce such a feasible and rich experience for end users and given a face-lift to carriers such as USPS. At this time, the ball is in USPS' court to show versatility in adapting to the needs of this new demand and reinvent itself to benefit from this facelift.