A Tale of Two Projects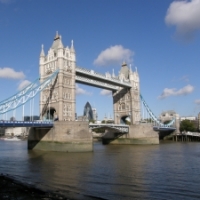 It was the best of times, it was the worst of times . . .
Large IT projects are challenging. Complexity is hard to estimate well. Big systems are tough to implement. Data cleanup, conversion, interfaces, and organizational change often prove more difficult than anticipated.
I recently observed two organizations responding to emerging large-project challenges in two different ways:
Ignore or downplay the problems and pretend everything will be OK despite mounting contrary evidence.

Realistically assess the situation and announce that target completion will be delayed six months.
I'm surprised that so soon after the HealthCare.gov debacle, some people still haven't learned an important physics lesson: When the crepe paper barrier of an "inflexible date" tries to stop a freight train of growing evidence that the system is not ready, your project won't win.
The outcome of the first scenario isn't surprising; you've heard that story before. What might surprise you is how the second project unfolded.
The second project was the conversion of existing customer data for a large insurance company from a legacy system to a new system during a period of unprecedented customer growth. Initially, the conversion was scheduled for completion in July of 2015. In June 2014, senior company executives made an announcement that said:
"This project is taking longer than expected. We are concerned that trying to meet the July 2015 date might jeopardize customer service. We plan to extend the schedule six months and our new target is December of 2015. We want to thank the project team for their hard work thus far and we look forward to offering the improved functionality of the new system to our unconverted legacy customers as soon as we can while providing the exceptional service our customers expect."
The response from the organization? Blood-curdling shrieks of, "meh." The notice was posted on the company intranet and an email was sent to all staff. People buzzed about the schedule slip for sixty seconds—and then went on with their lives. In mature organizations, executives may be disappointed by schedule slips and cost overruns, but with sufficient advance notice, it isn't always a big deal.
What is always a big deal? Waiting until the last minute before revealing significant problems. Because now, in addition to contending with "surprise" issues, senior management was lied to, and they may have unknowingly repeated those lies to their bosses, customers, or shareholders. The organization made plans and commitments as if the system would be ready because they trusted the people running the project.
Imagine you are an executive. Given the choice between being told that a project is having issues with six to twelve months of warning, when you might have time to act, or being blindsided by unpleasant last-minute surprises, which would you prefer? Why treat your executive team differently?