The World Has Product Ideas—and So Can You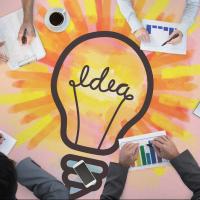 From where do organizations—both big and small—get product ideas? Ideation is a significant step in product development. It is not just about coming up with solutions that you believe the market needs—it's also feasibility analysis to ensure implementation viability, competitor analysis for similar solutions, and analysis of the user base, which together help determine if the right product is being built. Only then will the engineering team be set up for implementation success.
Program managers and designers, with close involvement from stakeholders, have traditionally taken on the important responsibility of ideation. While most often ideas run along lines of the core business of the organization, it is not uncommon to see drastic changes in the domain when launching new ideas. Who doesn't remember how Amazon moved from being a book seller to the software giant it is today, including the cloud, webservices, and a newer presence in areas of IoT, wearables, augmented reality, and artificial intelligence. Amazon continues to surprise the world with new and diverse businesses.
Most often, pioneers and revolution makers have ideas that are homegrown, but today the market is such that the world has ideas. Even if you are smart enough to follow market signals, our industry has splenty of patterns, trends, and ideas to work on and augment. For example, if you take the hot trends around artificial intelligence and virtual reality and combine them with usage patterns to see what solutions may appeal to end users, the end users themselves are happy to partake in vouching the options you have on the table. All of these go a long way in mitigating the risks associated with ideation and give you a boost upfront to move forward.
In addition to the above, competitions, events, hackathons, and mentoring initiatives are all happening at a global level. At a recent Microsoft Imagine Cup event, students from Canada beat out all submitted ideas with their winning entry SmartArm, a robotics-based solution. A recent hackathon at Microsoft was centered on accessibility. Google continues to set aside 20 percent of their employees' time for innovation and ideation. The sticky notes that we all use is the idea of a 3M employee who came up with this solution during his innovation window. Even if a small one, an idea worth pursuing goes places very quickly today because of an industry that is quite open to solid acquisitions.
Today's ideation team need not be a strong one that's working in isolation, churning out ideas. If the calibre is such that the organization is vested in strong ideation avenues, certainly go for it. However, the smarter approach is to closely watch the market as the world gives you the ideas today. Of course this does not mean you should steal ideas—but you can be smart and take cues from market patterns, user preferences, and industry trends to weigh in on the next steps. Increasingly, such smartness and creativity in collaborative solutions is becoming more valuable than breaking your head over an isolated light bulb idea.