4 Reasons Your Company Should Hold a Developer Hackathon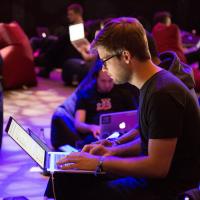 Hackathons, where developers meet up to do some collaboratative programming, are a great venue for problem-solving and creativity. Best of all, they can be hosted anywhere, so many companies now use hackathons as team-building exercises.
Hackathons give employees the potential to get ideas out there that could pay off big for the company, work the bugs out of new technology, and increase morale.
Here are four reasons hackathons should be a part of your company's business plan.
1. A judgment-free environment
Employees only have so much time and resources to devote to new products, so brainstorming is often shunted to the back burner. A hackathon solves this by giving people a set time—say, forty-eight hours—to come up with and showcase a product to demonstrate to their coworkers. They can try out all sorts of new, crazy ideas that may or may not work, all in a judgment-free environment with very low risk.
2. Experimental experience
If you have three developers and one businessperson on a hackathon team working forty-eight hours, that's 192 man-hours. They can quickly develop a new idea and get it up and running, so if it's worth pursuing, the company can devote more time to it. And if it doesn't work out, instead of losing months of time on it, you only lose two days.
3. Unity among competitors
Hackathons don't have to be solely internal. They also offer an opportunity for employees and employers of rival companies to share some of what they've been working on, or even put their projects to the test in a competitive but friendly environment. Hackathons can help companies foster alliances and collaborate with one another on projects without risking losing tons of money and time on a single project.
4. Connections with participants and judges
One of the best things about a hackathon is that it's an opportunity to network. Not only do members of your company's team get to scout out talent and recruit aspiring people, but you also get to make business connections with other major-league players in the room.
A hackathon is a great opportunity for programmers and companies alike. And with little money or resources required to host one, it's something any development operation should consider.