Tips for Managing a Distributed Team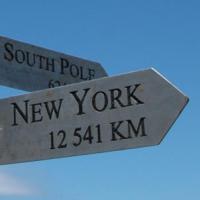 In a recent Better Software magazine article, Lisa Crispin discusses some challenges and solutions she and her team have encountered while working with a team member who is located in India—half a world away from the rest of the team.One of Lisa's recommendations is to establish rules and guidelines for your distributed team. These guidelines will outline expectations for behavior, availability, and communication among team members.  The first guideline Lisa mentions is to establish a telecommuting policy. 
Another important aspect of telecommuting success is making sure your team has the right tools. These tools may be as basic as instant messaging or as complex as creating a virtual team member, as Lisa and her team did.
Rick Freedman of TechRepublic states trust is the most important thing you have to establish with your distributed team. You can have all the tools, policies, and expectations in the world, but if you don't trust your team members to handle the freedom and responsibility that they are necessarily afforded in the remote working environment, you are better off hiring locally, even if the talent pool is not as deep.