How to Make the Most of a Virtual Conference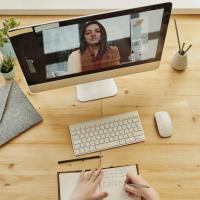 Many conferences are moving to a virtual format. If you haven't attended such an event remotely before, you may be wondering how you can make the most of it. While it is different from going to a conference in person, there are still many opportunities for value.
Here are a few tips for fully taking advantage of a virtual conference experience.
Plan your schedule
Just like when a conference is in person, first you should plan your schedule based on which presentations and sessions are most relevant to your goals. And keep in mind that an advantage of a virtual conference is that some talks may be recorded.
If some of the conference is recorded for you to watch or rewatch at a later time, take advantage of that. If there are two talks you want to attend that are happening at the same time, or there is a big meeting you can't miss, you'll know you can plan accordingly.
Review materials early
You may be able to review materials for a session ahead of time, such as presentation slides or worksheets. If that is the case, take the time to do it. This will give you a head start and make you more prepared to ask the speaker questions after the session.
Prioritize your time
After you have planned your schedule, it's time to block your calendar and send reminders to your team to let them know you will be attending a conference and won't be able to come to meetings as usual. Also, if you have family or roommates at home, make sure they are aware not to disturb you during these times. Keeping distractions to a minimum means you'll be able to completely pay attention to the sessions.
Don't multitask
If at all possible, don't answer emails, texts, or any other type of messages while you're watching a conference session. Sit at your designated office space and limit multitasking and outside distractions so that you don't miss something important. Just as if you were in person, giving your full attention to the talk will help you gain the information you need.
Be an active participant
During the live event, participate beyond listening. If there is a chat function, ask the speaker questions about their material and engage with others in the session. Some virtual conferences may also have networking or special events during or after hours, such as morning coffee talks, one-on-one time with speakers, or game nights. Attending them can help you gain more from the event.
Also be sure to follow the conference on social media and join their online communities. One of the biggest things people can miss out on in a virtual environment is connecting with other participants, so attend as many events as you can and it will feel more like you're really there.
Up Next