The Resurgence of Enterprise Software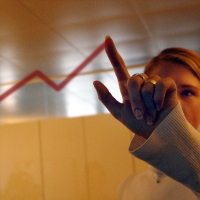 Software for enterprises―be it for internal productivity or for assisting the core business of an organization―has long existed and grown with changes in technology. The rise in cloud computing gave a solid boost to enterprise software―large independent software vendors started moving their solutions to the cloud, and smaller start-ups bootstrapped their solutions and powered them directly on the cloud.
Amidst all of the buzz came mobile computing, which gave an uplift to enterprise software and an even larger uplift to consumer software. Mobile app development gave rise to not only start-ups but also freelance developers letting users create software for other users. The industry over the last few years has focused on mobile app development, testing mobile apps, and app developers getting their apps approved. With this change in focus and enterprises working towards the right strategy to embrace the cloud, it would not be unfair to say that enterprise software was briefly sidelined.
The latest wave though is one that brings the focus back to enterprise software. In the news recently was the high profile acquisition of Concur by SAP. Concur, an enterprise expense and travel management solution, has grown steadily over the last two decades and is coming to a very successful exit with its acquisition by SAP. This has enhanced market confidence in enterprise software, including some impressive funding for such ideas and ventures.
While the growth in mobile computing sidelined enterprise software a bit, enterprise software's access on mobile devices is also an important development attribute to consider―an attribute where aspects such as performance and security carry a lot more importance than consumer software. Accessibility mandates are becoming increasingly important for enterprise software too, including software that is built for internal use.
Enterprise software is a beast in itself. Its scale is often huge. This is now becoming only bigger with ample opportunities for integration with the cloud, access on mobile devices, and global reach. Apple, which has heavily focused on consumer technology, is now working towards enterprisation of consumer technology and is attempting to better align itself with enterprises.
With this renewed focus, there is enough ground for us as developers and testers to be excited to partake in this next round of enterprise software development.
Up Next