Cloud Computing Is a Utility for the Future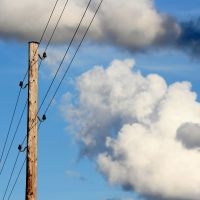 In the fast-growing world of mobile broadband communication, cloud computing is modifying the way we think about the next generation of information accessibility and storage because it provides unlimited access to data and applications without the need for storage and processing power on local devices. Organizations are spending less on hardware and software, and user interfaces can be created in minutes or hours. Cloud computing is changing the global market from many technologies into one defined technology, via a web service.
It's the next computing platform as described by Gordon Bell in his popular Bell's Law. With cloud computing, the emphasis is on storage and networking to enable wide-scale, round-the-clock access to data needed for transactions.
Cloud Computing As a Utility
Existing utility markets include water, electricity, gas, and even basic Internet connectivity. While current market leaders are facing many challenges, these challenges can become opportunities—if handled with foresight.
So, how can challenges become opportunities in the case of cloud computing?
Recent technology advancements made in existing utilities by cloud computing have opened up many opportunities for new business. In the coming future, utilities can be considered as data-rich businesses that need efficiency in collecting, interpreting, and acting on information. These utilities can achieve agility, speed and enhanced business, and customer insight that will surely change the market trends.
When an item has been commoditized to such an extent that it's nearly impossible to distinguish it in a utility market, companies or vendors distinguish themselves through different levels of service availability and support. The same definition can be applied to the cloud computing market where data center infrastructure is commoditized by large cloud providers. The advances in remote storage and computing as a utility are wide ranging and could impact how businesses and consumers access and use this data-centric technology. Simply put, the public utility market and cloud computing are getting closer every day.
Do Cloud Computing and Utility Computing Refer to the Same Computation Technique?
It's true that cloud computing inherits concepts from utility computing in order to provide metrics for the services used. Such metrics are the base of the public cloud pay-per-use models, but both are completely different technologies. Utility computing incorporates cloud technology, but cloud computing is a far broader concept.
Utility computing represents a pay-and-use business model in which IT services and hardware or software is delivered to customers at minimal cost in a linear-demand structure. But cloud computing provides a wide platform to design, build, and deploy business applications in a virtualized environment in which sharing on demand is not linear. It grows or shrinks according to customer base, interest, etc. This makes it possible to deliver cloud services without using existing utility methodologies.
Up Next