Missing Malaysia Airlines Flight Leads to Crowdsourcing Search Party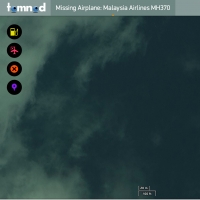 If you have Internet access—no matter where you are on the planet—you can help solve the mystery of what happened to Malaysia Airlines Flight 370.
Colorado-based satellite imaging company DigitalGlobe, which owns one of the world's most advanced networks of commercial satellites, is posting photos of the sea where the plane is likely to have gone down and asking for the public's help to comb through them.
With 239 people on board, Flight 370 disappeared over open water en route to Beijing on March 8. On March 9, DigitalGlobe's satellites took high-resolution photos from 400 miles above the Gulf of Thailand and uploaded them for analyzing.
The challenge was finding the manpower to scrutinize the more than twelve hundred square miles of water depicted. Here's where the crowdsourcing effort comes in.
The photos are on DigitalGlobe's website Tomnod.com for anyone to examine. Each image tells you when it was captured and where it is on a map, and you can zoom in or move around. If you see something in the water, the site gives you the option of geotagging it as an oil slick, plane wreckage, life raft, or something else that looks like it may be of interest.
A computer algorithm then determines which locations are being tagged the most, and in-house experts will follow these leads.
The response has been overwhelming. Within the first hour the map was up, the site had sixty thousand page views and more than a thousand tags. The next day, the platform was getting about a hundred thousand visitors an hour, causing its servers to crash. When the site rebooted, it had fresh photos to be scoured. These new images now show almost 15,500 square miles.
"In many cases, the areas covered are so large, or the things we're looking for are so hard to find, that without the help of hundreds of thousands of people online, we'd never be able to find them," said Luke Barrington, DigitalGlobe's senior manager of geospatial big data.
DigitalGlobe has used its Tomnod site before to help with other response and recovery efforts, including observing wildfires in Australia, violence in Ukraine, and the aftermath of Typhoon Haiyan in Southeast Asia. But in the case of Flight 370, Barrington said people contacted his company first, urging it to make its satellite imaging resources available.
"This time when the Malaysia plane went missing I was getting messages from the Tomnod community asking when we were going live with maps," Barrington said. "They wanted to help right away. ...It's showing now that this has the capability to be one of the first choices in search efforts."
Up Next