Is Desktop-as-a-Service (DaaS) Right for Your Organization?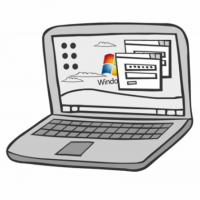 VMware recently announced its public desktop-as-a-service (DaaS) offering. Among other major players in this space, Amazon announced its DaaS offering in November 2013, and Citrix has been in this space for a while through its partner network. With other major players actively joining the DaaS bandwagon, a fundamental question is: Which end-user use cases do the DaaS offerings serve?
Wikipedia defines desktop virtualization as "a software technology that separates the desktop environment and associated application software from the physical client device that is used to access it." Remote desktop virtualization can be provided via cloud computing similar to that provided using a software-as-a-service model. Usually referred to as DaaS, this approach solves one of the basic end-user needs—being able to access the desktop and its applications while being mobile.
DaaS mostly serves the needs of enterprise customers, basically the administrators, and the end-users who use the desktops and applications. In a DaaS offering, the implementation of virtual desktop infrastructure is abstracted from the organization and is done via the cloud. This means that the administrator has a different role to play than the more traditional on-premise desktop infrastructure. In either case, the consumer of desktops (the end-user) should ideally get the same experience.
DaaS may not appeal as much to existing users who already have their own way to provision desktops. For the most part, employees need just one desktop, which is probably a reason why Amazon's WorkSpaces beta launch did not create a lot of buzz. However, employing DaaS may be useful when there are temporary employees who need to quickly scale up with their infrastructure and at the same time have the need to destroy the desktop once the temporary need is over. 
DaaS offerings could help serve the desktop needs of start-up companies who may not have the means to deploy a relatively expensive virtual desktop infrastructure solution. Given that the majority of computing power is leveraged from the server resources, organizations can go for thinner and low-cost clients to serve their needs.
Abstracting the desktop environment from the physical hardware also helps to serve an organization's need for disaster recovery and providing adequate data security. For example, a user employing DaaS setup for mobile worker needs can be assured that even if the mobile device is lost or broken, the desktop data remains secure. 
Often the use cases pertaining to DaaS and server virtualization (IaaS) are confused. In reality, the primary motivation of IaaS is consolidation of server resources without much consideration for the desktops and apps. You could still access a virtual machine in an IaaS scenario, but DaaS meets the typical desktop needs for more consistent management of the desktop computing environment, easier desktop upgrades, and better mobility.
Have you ever considered using DaaS?
Up Next