The Next Cloud Innovation Wave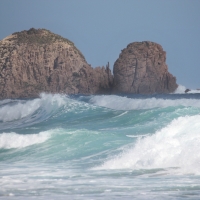 Has the cloud innovation engine finally run out of steam? That question was recently posed to me by a venture capitalist looking for his next winning investment. Cloud technology has certainly had a great ride over the past ten years, transforming the way companies consume IT services, remaking the way applications are built, and allowing companies the flexibility to apply IT systems to business challenges in ways never imagined before. Without the cloud we would not have Google, Netflix, Dropbox, or Office 365. With all this glorious history, where is cloud technology going next?
One sign that the level of cloud innovation might be leveling off is the great wave of cloud-focused company acquisitions and consolidations in the past six months. Larger technology companies snap up cloud technology startups for the simple reason that it is often easier and cheaper to buy innovation than build it inside the structure of a mature company beholden to investors and shareholders demanding quarterly results. 
Some wags have even pointed out that some of the recent acquisitions boiled down to acqui-hires, a term that refers to an established business acquiring an emerging company primarily for its senior engineering talent. The limited availability of proven creative technology talent calls for more innovative thinking about how to land these rare people, instead of trying the old fashioned and slower approach of nurturing their own. The long-term success of that strategy is debatable; entrepreneurial technology superstars are rarely satisfied for long in the more cautious corporate environment of a mature IT company. 
If the cycle holds true, these people will be out starting their next independent adventure in about two years when their contracts expire. RackN is one such promising company.  Founded in October 2014 by Rob Hirschfeld, a long-time OpenStack pioneer and the brains behind the Crowbar installation tool, the company is currently barely more than a website and an idea. Other interesting companies to keep an eye on are Siaras and One Convergence, both in the cloud orchestration tools space.
At the November OpenStack Summit in Paris, the large companies such as Redhat, HP, and Cisco were very much present, while the number of real startups represented was tiny. That could have been more because many of the OpenStack startups are US-based and Paris is expensive for an unfunded company—not that the startup companies did not exist.
In the meantime, while the next wave of cloud technology companies turn their ideas into new products, many entrepreneurs are turning to other areas to focus on. They are creating innovative products and ideas around the Internet of Things, pairing mobile devices and embedded technology with cloud back-ends to handle the analytics and heavy computational power needed for these systems to work.
There is no lack of innovation across the technology sector; however, it does take some time for emerging companies to mature enough to be acquisition targets. So the answer is that cloud innovation has not stopped—it has just gone into stealth mode for a bit.
Up Next