Managing Enterprise Application Portfolios Using Cloud Marketplaces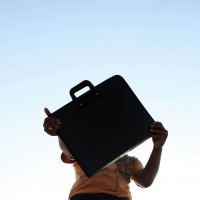 Is your cloud application portfolio a mix of SaaS products and custom applications pasted and patched together with your legacy systems? If your company is typical of most enterprises just ramping up their cloud portfolio, it is likely that it looks just as messy as your legacy portfolio, if not more so. 
Cloud marketplaces, where customers are able to purchase component applications, have been around for a few years, but with the increasing interest in moving more enterprise applications to cloud services, there is a renewed push to add features and functionality that appeal to not only their core SMB market segment. Can a cloud marketplace help with the management of your enterprise IT applications portfolio? 
Cloud marketplaces are usually a set of hosted applications and tools that are made available and supported by a cloud services provider. A representative cloud marketplace has a portfolio of useful tools for building applications more easily and faster by minimizing the efforts needed to build application basic commodity tools such as databases, firewalls and development tools. Since the marketplaces are pre-vetted by the marketplace provider, the idea is that there is a level of comfort that the components will work together.
The first cloud marketplace dates back to 2012 when Amazon announced the AWS Marketplace, with the Deutsche Telekom Business Marketplace following shortly after. The business marketplace was conceived with the idea that companies with limited resources and minimal understanding of sophisticated IT architectures needed one place to go to build their application portfolio using prebuilt components. In the highly regulated German market, this approach makes perfect sense. Other companies that have since opened up cloud marketplaces include products from Deutsche Telekom, IBM, HP, Verizon, and Dell to name just a few.
Fast forward to now, and the cloud marketplace landscape has rapidly evolved from those humble beginnings. The earliest ones were mainly focused on tools targeting the SMB market, but with the realization that the enterprise is now serious about the cloud, this means that the new cloud marketplace products are emphasizing their enterprise chops over their SMB roots.
One thing to keep in mind is that a hosting provider's marketplace support can range from simply being a host of services that share only a common platform (Amazon), up to full integration of the third party services (Deutsche Telekom Business Marketplace). Other variations on this idea include community clouds, where providers create marketplaces for companies in related industries or businesses with common regulatory or business requirements, where they can use targeted products or platforms.
One interesting variant is the Deutsche Börse Cloud Exchange, which is billed as the world's first vendor neutral cloud marketplace. This is taking the idea of a cloud marketplace and turning it on its head; instead of an IaaS vendor hosting SaaS and PaaS applications, this is a marketplace for IaaS cloud resources.
In conclusion, the market is still young and changing rapidly. For companies that need to build applications in the cloud using tools that are known to work on the platform, a cloud marketplace can provide a much needed headstart. 
Up Next