And the Winner Is: DARPA Robotics Challenge 2015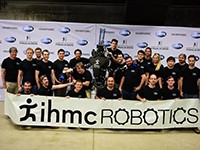 It was "may the best robot win" when the metal heads tested their mettle during the two-day DARPA Robotics Challenge final competition held in Pomona, CA. Here's how it went down: First place went to DRC-Hubo, developed by Team KAIST from South Korea. Running Man, developed by Team IHMC Robotics of Pensacola, FL, took second and Carnegie Mellon University's part ape, part tank CHIMP came in third. The three winners received a total of $3.5 million in prizes.
Sponsored by the United States Defense Advanced Research Projects Agency (DARPA), the competition is designed to inspire robotic technology that can be used for disaster relief operations. The Fukushima Daiichi nuclear disaster in 2011 was a source of inspiration for the project. Deploying droids as first responders in situations too dangerous for humans could potentially save lives and help avert further disaster.  
During the competition, the robots had to complete tasks that a first responder may be called upon to perform, such as opening a door and then going through the open doorway, climbing stairs, rotating a valve handle 360 degrees, or using a power tool.
What's the most difficult task for a robot? According to the DRV-Hubo website, one of the hardest jobs for a robot is driving. Since robots don't have a spine that lets them twist to get in and out of a car, researchers must carefully design movements to enable the rigid robot body to move within a confined space.
Overall, the competition was fierce and the more than 1,000 spectators were enthusiastic. The crowds groaned when a robot fell and cheered enthusiastically every time a robot scored a point. DARPA program manager and DRC organizer Gill Pratt said, "It's an extraordinary thing, and I think this is one of the biggest lessons from DRC—the potential for robots not only to perform technical tasks for us, but to help connect people to one another."
Optimus Prime would be proud.
Here are some great highlights: A Celebration of Risk (aka, Robots Take a Spill)
Up Next