STAREAST Receives Glowing Reviews from This Year's Attendees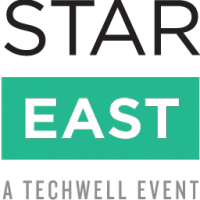 TechWell pours hundreds of hours into STAREAST each year, and while helping delegates earn certifications and watching software professionals connect at the expo is greatly rewarding, seeing glowing reviews from those who have experienced the conference firsthand might mean the most.
This year, we saw a medley of interesting articles appear after the conference written by happy attendees and vendors who represented their companies at the Orlando-based conference. Rajiv Jain, the CTO and CEO of ThinkSys, detailed exactly why both STAREAST and STARWEST are quickly becoming his preferred conferences to attend.
"I can't think of any other place that can boast of all-star lineups including speakers like James Bach, Michael Bolton, and Joe Colantonio among a host of other gurus and expert-level users," Jain wrote. "The range of topics covered is also staggering—everything from testing and test automation best practices to the emerging trends not yet fully visible as they come down the turnpike."
He highlighted the speakers, sessions, people, and variety of topics as the greatest strengths of the week-long event, as well as its effectiveness as a platform for a company like ThinkSys. When it comes to speakers, it's the keynotes that often shine brightest, which is something Jeff Perkins, CMO of QASymphony, points to in his blog post.
"Keith Klain, a member of our board of advisors, kicked off the conference with a dynamic keynote," Perkins explained. "Keith's message to testers—you need to be able to draw a line between what you do as a tester and your business. In other words, show the value that you provide to the organization. "
Beyond that, Perkins wrote about the success of the QASymphony tester personality quiz, the company's VIP dinner, their booth, and Mike Cooper's presentation, "Evolve or Die: What Testers Need to do to Survive and Thrive." As a company, QASymphony flourished at STAREAST.
Gerie Owen, a test architect/business solutions analyst at Eversource, provided her own insider perspective on attending the conference. She outlined the different presentations she enjoyed over the course of the week—from test automation productions by Dorothy Graham, Bob Galen, and Jeff Morgan to testing the Internet of Things by Jon Hagar. But it was the ability to interact with big names in the business that she continued to emphasize.
"STAREAST offered not only an exciting and varied schedule of presentations, but also offered the opportunities to get to know and talk in depth with the speakers at Meet the Speakers Lunch," Owen said. "At this event, the speakers sat at various tables and conference delegates could choose their table based on personal interest."
We value each and every delegate and vendor who attends STAREAST—whether it's their first conference or their tenth. We had a wonderful reaction to this year's show, and hope to match and even top that response after STARWEST later this year.
If you're intersted in learning more about STARWEST—from the scheduled keynotes to the available sessions—you can visit the main site here. 
Up Next