Google's Arts & Culture App Brings the Art World to Your Phone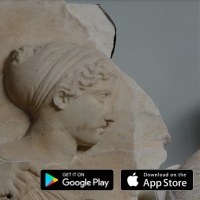 Searching for inspiration? Or just ready to take a quick break? Check out a daily dose of art and culture, courtesy of the newly updated Google Arts & Culture website and app. You can't help but learn something new each time you check your phone!
The online cultural world launched in 2012 by Google has steadily expanded, and now the Google Cultural Institute and its growing list of partner organizations offer up even more artwork, interesting artifacts, and content from more than 1000 museums, archives, and organizations.
Here are a few highlights to explore:
"Your Daily Digest" features on-this-day stories about art (1890 - Vincent van Gogh dies of a self-inflicted gunshot wound in Auvers, France), in history (1958 – the National Aeronautics and Space Administration, NASA, is created), and an artlist of interest (7 Amazing Facts About Judith Leyster, a 17th-century talent lost and found).
Search and view art through a specific timeline, such as how modern art evolved from roughly 1860 to 1975 or how an individual artist's body of work evolved. Even search for art by color—try pink in Contemporary Art, bright fuchsia to soft coral. Google curates Monet's 50 shades of gray as well.
Use a virtual reality viewer like Google Cardboard to take a virtual tour of the street art scene in Rome.
Zoom in for a close up, thanks to Google's art camera, a custom-built robotic camera that creates gigapixel images. Museums use the cameras to take hundreds of high resolution close-ups of the artwork.
If you want to experience the art in person, click "Visit" on a museum's page to get opening times, find out what's currently on display, and get directions. This is a tremendous concept and one of the best apps available (bonus: FREE). Download the app for iOS and Android. You can also subscribe to the new Google Arts & Culture YouTube channel.
Up Next