3 Hidden Benefits of Accessibility Testing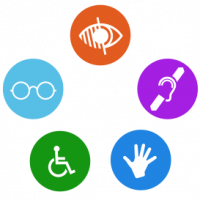 When we think of accessibility testing, we usually think of the ADA (Americans with Disabilities Act), WCAG (Web Content Accessibility Guidelines), and Section 508. And these standards are getting more attention—2017 saw a large increase in website accessibility lawsuits filed in federal and state courts.
But don't think of implementing accessibility testing just to avoid a lawsuit. There also can be many hidden benefits of complying with accessibility guidelines for you, your site, and your company. Here are three of them.
Performance
Though the main purpose of accessibility testing is to serve differently abled users, there are many instances in which implementing accessibility guidelines have benefited the overall user base.
For example, one application I was testing was quite heavy on images, so in the accessibility test summary report, I suggested that all heavy images be replaced with alternative texts. This achieved accessibility compliance, but because a large number of the heavy images were removed, the overall performance of the application was also faster. The pages that had taken around two seconds to load with images started loading in less than a second.
So even though performance improvement was never an integral part of the original requirements, by addressing the accessibility concerns, we were able to improve the performance of the application and benefit the entire user base.
Time to Market
In one of my earlier accessibility assignments, we were using the Dragon NaturallySpeaking voice recognition tool for carrying out ADA II compliance testing. The tool is for users who struggle with writing due to a learning disability like dyslexia, where spelling and typing can be frustrating and difficult. Voice recognition software has the capability of streamlining workflow, allowing the user to work as fast as they can speak instead of as fast as they can type and move the mouse.
The unseen benefit here is speed, or time to market. Using a good voice recognition tool is typically three times faster than typing, and it gives you the ability to do hands-free computing.
Quality
There are many tools available in the market for captioning. Captioned software contains text that transcribes the narration and provides descriptions of the sounds and music that are present. This software is used by people with hearing difficulties, but it also benefits people who aren't native speakers of the language used in the video or those unfamiliar with the vocabulary of a discipline, and sometimes it also allows interactive searches within the video.
Captioning improves the quality of your software by ensuring that the right message is sent to the extended user base—your intended users, plus the users who are native to the application language.
The Web Accessibility Initiative was launched in 1997, yet it is still a widely ignored and neglected aspect of web development. But know that if you consider accessibility for your website, application, or software, not only will you be helping make your product available to more people, but you may get some unexpected benefits, too.
Up Next