Today's Smart Pet Trackers Have GPS, Bluetooth, and More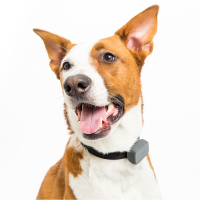 July is Lost Pet Prevention Month. According to the National Council of Pet Population Study & Policy and the National Humane Society, a family pet is lost every two seconds in North America. But a GPS tracker is one of the best ways to prevent your pet from becoming a statistic, and there are many high-tech options available.
Some people confuse microchipping with tracking. A microchip is only successful if someone is able to catch your pet and take it to a vet or shelter for scanning, and many lost animals are too fearful of strangers to be caught. A GPS tracker puts the owner in control.
GPS tracking devices from companies such as Whistle, Paw Tracker, Gibi, and Link AKC are either a collar or a unit that clips onto your pet's existing collar. You set a perimeter around your property using the company's website, then if your pet goes outside of that perimeter, an alert is sent to your cell phone through either a text message or a push notification from an app you download. You can then track your pet through the app, which displays a map with your pet's real-time location so you can find and recover your wayward dog or cat.
In addition to the tracking feature, these units offer activity monitoring that will notify you if your pet has been less or more active than usual. This feature can provide an early alert to the onset of a potential medical problem by making you aware if your pet's activity level takes a sudden drop.
The cost for the trackers range from $79.99 to $179.99, with required monthly monitoring subscriptions ranging from $6.99 to $9.99.
The most important features to consider when researching your options are battery life and tracking range. The units are rechargeable and send an alert when they need to be recharged; battery life ranges from a few hours to almost two weeks. As for range, of course farther is better. One device has a range of as little as a hundred feet, which is inadequate for trying to locate a pet on the run.
Today's smart pet trackers are so much more than a homing beacon for your dog or cat. They're Bluetooth-enabled and use GPS technology, and some even act as a fitness tracker. While it's probably not worth it to explore these tracking devices just to count Fido's steps, if you're worried about your pet escaping, these devices can bring you some peace of mind.
Up Next