7 Habits of Highly Effective Project Managers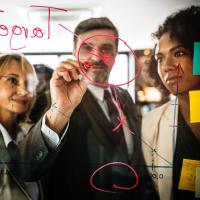 Project managers are in charge of planning, supervising, and verifying the work of the project team to ensure the project's goals and success criteria are met. The challenge is to achieve these goals and success criteria within the constraints of time, budget, and workforce.
The best project managers know how to keep it all balanced. Here are seven of their top skills to master.
1. Operate with objective indicators
It's impossible to disprove the facts and figures. If you can show successful projects in quantitative terms, this information will be more significant than any other argument. For example, you can provide information as a percentage of the budget or cost savings.
2. Organize the workflow
Maintaining schedules and reports on progress and status is an important part of your work. You should always have the project documentation up to date, presentable, and available to the team. However you organize the work, it should be convenient for the project team to see and understand. This reduces the likelihood of confusion and creates conditions for better work.
3. Be responsible for the team
You should be prepared to take responsibility for the decisions that you'll make every day. This extends to being responsible for your team. You need to help everyone keep on top of their work and fulfill their duties.
4. Keep it simple
Many people are too eager to demonstrate all their knowledge, and they end up complicating things that should be simple. Making everything as clear and simple as possible helps the team focus on the planning and implementation, without wasting time.
5. Know the project inside out
You should know everything about your project, from the features of planning, goals, results, and assigned tasks to the monitoring plan, which defines key indicators and tools. A successful project manager should immediately be able to tell people the purpose behind the project they are working on, what the goals are, and what still needs to be done.
6. Keep mistakes in perspective
If you focus too much on one mistake, you create the ground for the emergence of new ones, and soon enough the entire project goes wrong. As soon as you find that someone made a mistake, you need to fix it. And instead of assigning blame, always transform mistakes into a learning opportunity. Mistakes are just bricks in the foundation of your success.
7. Ask for help if you need it
The main goal is successful completion of the project. If you can tell that the project does not correspond to you or your team's skill level or abilities, then let the company know. No one is invincible. Remember, as project manager, you're responsible if the project is not completed satisfactorily. Set everyone up for success.
Up Next