The Many Facets of a Product Manager's Role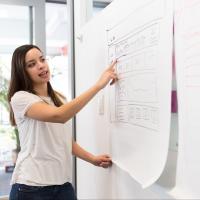 The need for agility in responding to end-user needs and maintaining an edge with competition has made product managers even more essential, in large organizations and small startups alike. A product manager plays an important part in these ecosystems, and their impact can be seen at people, product, and process levels.
However, a product manager's role is often subject to ambiguity and open for debate. This person wears multiple hats and the role continues to evolve based on market needs, so there can be a lack of understanding about what it truly entails.
One of the core reasons for the ambiguity has been a relative lack of clarity around whether a product manager is more of an advocate for the business, design, and users, or an engineering champion. In reality, an effective product manager strikes a balance among all these groups. They walk a fine line in the ability to understand and collaborate with both the technical talent and the people advocates, yet not trespass into any of their roles. This differs from a project manager, who largely focuses on engineering execution.
It's a common misconception that product managers play a strategic role in working only with stakeholders to define a product's vision and roadmap. Instead, a good product manager empowers the entire team to deliver on their roles within the project constraints, with the end goal of an impactful product.
Put simply, a product manager asks about the who, what, why, and how of every product that is being envisioned, engineered, and released.
They may ask:
Who are our customers, external partners, internal collaborators, and competitors?
What is the market opportunity and the resultant value creation we envision for our customers? What technology and industry shifts are shaping the scenario? What investments are needed from stakeholders? What timelines are we looking at?
Why are we building this product? Why are we building it now as opposed to another time? Why is this product relevant for a certain market?
How does the product proposal align with our company vision? How would the product make an impact on release? How would we engineer the product within the given constraints of software development?
While they may not take stock of these questions every day, asking these relevant questions periodically is valuable in determining actions, decisions, and the overall direction the team is headed in.
An effective product manager enables the entire team to address and answer these questions together, which encourages motivation and bonding, gives clarity to tasks, and maximizes the value in what the team is delivering.
At times, product managers are too strategic and want to be visionaries, and they prioritize the big picture while sacrificing the on-the-ground reality. Other times, they are very tactical and hands-on in one specific area, focusing on the technical details so much that they overwhelm themselves and the team. A good product manager strikes a middle ground.
Product managers should empower the entire team to keep the focus on solving the who, what, why, and how of the product they're working on, so they can build the most valuable product possible.
Up Next