Did Apple Tick Off the Swiss Railways?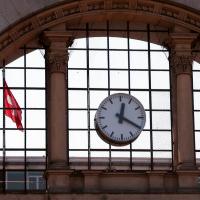 The well-known railway clocks found in the train stations throughout Switzerland are fondly regarded as a symbol of the punctuality of Swiss trains and widely hailed as an icon of elegant and pure design.
Created in the 1940s by engineer and designer Hans Hilfiker as an employee of the Swiss Federal Railways (SBB), the clock has been featured by the London Design Museum and the New York Museum of Modern Art as a prime example of 20th century design. 
Swiss watchmaker Mondaine calls their timepieces, which they've copyrighted and based on this same design, "simply elegant."
You can also count Apple among the big-time admirers of the Swiss railway clock.
The Apple iOS 6 clock app for the iPhone, iPad, and iPod Touch looks remarkably similar to the Swiss railway clocks. At first Apple maintained that there are differences between the clocks and that Apple didn't believe that a license was warranted.
However, a barrage of headlines ensued when the Apple clock app appeared. Among them, the U.K. Register wrote "Swiss railways ticked off at iOS clock knock-off," and Switzerland's Tages-Anzeiger lamented "Apple copied the famous SBB clock."
Apple has since come to terms with the Swiss Federal Railways. According to The Verge, the Swiss Federal Railways service announced "SBB and Apple have agreed and signed a license agreement." Licensing fees have not been announced.
What's that old saying? Oh, yes, imitation is the sincerest form of flattery.

Up Next