The OpenStack and VMware Smackdown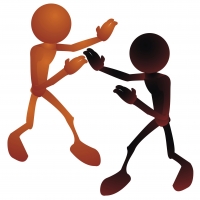 Following rumored reports of PayPal's plan to replace their VMware infrastructure with OpenStack, a blog post from Bogomil Balkansky, VMware's senior vice president of cloud infrastructure, quoting Rajesh Natarajan, PayPal's vice president of platform engineering operations, seemed to indicate that no, PayPal is staying with VMware—for now anyway.
Is PayPal really dumping VMware for OpenStack as Mirantis co-founder Boris Renski reportedly stated? Or is it just hedging its bets by building a more diverse cloud infrastructure?
A recent blog post from the VAR Guy on the differences between VMware and OpenStack calls into question the entire notion of comparing VMware with OpenStack. The differences are far more significant than the VAR Guy's post would indicate.
For starters, VMware is and will always remain a proprietary product that started life back in 1998 as an application used for cutting the costs of building and maintaining multiple platform application test environments. Since then, VMware has found its niche as a way to cut data center operations costs by allowing companies to virtualize and consolidate servers on shared hardware and storage pools.
With enterprise strength administration tools and a 90 percent market penetration in the enterprise, think of VMware as the Microsoft of the infrastructure world. Its greatest strength is that it is a monolithic virtualization hypervisor with a well-integrated toolset.
On the other hand, OpenStack is a true open source project, similar to both Apache and Linux before it. In fact, the OpenStack Foundation uses the Apache licensing model. Less than three years old, OpenStack is already the largest open source project ever. The others took twenty-five years to get where they are today. That is both its greatest strength and its greatest vulnerability.
There are currently more than 500 active individual contributors to the April 2013 Grizzly version of OpenStack. A rapidly evolving ecosystem of tools and services is emerging to address the missing components, making it more attractive to its core service provider market and increasingly to the more traditional enterprise.
With another sold out OpenStack Summit in April 2013, the OpenStack open source platform continues its rapid rise as an emerging cloud infrastructure standard. OpenStack is a set of tools built from the ground up to support large-scale clouds.
VMware tools, until recently, were still mostly enterprise infrastructure-centric and administrative focused. Yes, VMware's vCloud is getting there, but it is no better integrated than the OpenStack tools. At least OpenStack is willing to admit that there is much work to do to create a more integrated and easier to use system.
In the end, OpenStack's main competition is not VMware. It's Amazon.
Up Next