Sears: Shop Everything from Appliances and Tools to Data Storage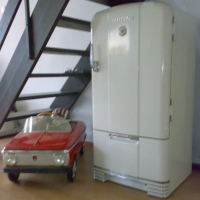 At one time, Sears was the #1 retailer. Wherever there were potential shoppers across America, there was Sears. And if a town was too small to warrant an actual store, then there was the catalog center, a nod to the retail giant's beginnings in the 1880s as a mail-order catalog company selling watches. 
Now, like many other once-thriving brick-and-mortar merchandisers who find themselves struggling, Sears is attempting to reinvent itself. The company asked a fundamental question: What do today's customers need? For an increasingly digital and mobile economy: data storage, disaster recovery centers, and more telecommunications towers.
During 2013, Sears Holdings Corp. formed a new business unit—Ubiquity Critical Environments—headed by new COO Sean Farney, who formerly built and managed Microsoft's 700,000 square-foot, 120MW, Chicago data center. Ubiquity's charter is to find a new—and hopefully profitable—use for the company's bloated real estate portfolio of Sears and Kmart stores that are sitting empty or projected to close.
The company says 71 percent of the US population lives within ten miles of a Sears or Kmart store, which means that unlike traditional developers, Ubiquity relies on current real estate assets in mature markets. 
The first Ubiquity project will be a Sears store on the south side of Chicago, alongside the Chicago Skyway, reports Data Center Knowledge.
The 127,000 square foot store is closing at the end of June, and will be retrofitted as a multi-tenant data center. Farney says he already has a commitment for the first tenant at the site on East 79th Street, which has 5 megawatts of existing power capacity and the potential to expand.
In addition to data storage, there's a data center product on the drawing board potentially offering both shared and dedicated business continuity workspaces, all covered by redundant power and connectivity, in retail locations in major malls. Sears also sees leasing the rooftops of its stores for wireless and wireline equipment communication colocation needs.
According to The Wall Street Journal:
Sears, under its namesake and Kmart banners, has roughly 2,000 open stores in the U.S. that encompass over 250 million square feet. Between 2010 and last year the company closed 333 U.S. locations, according to its annual report. The company does not disclose how many of the empty stores remain in its portfolio. A Sears store averages 136,000 square feet while a Kmart averages 94,000 square feet, with Kmart super centers averaging 168,000 square feet.
Sears is hopeful that shining the blue light on data centers is the answer.
Up Next