What Makes Jeff Bezos the Most Respected CEO?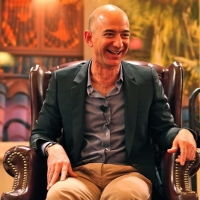 Rich Barton and Bill Gurley recently agreed in an interview that Jeff Bezos, the founder and CEO of Amazon, is the most respected CEO in Silicon Valley—despite his not actually living there. Rising to those heights is a difficult task, but sustaining that position may be even more difficult. Bezos continues to break these barriers and maintain his strong position at the top. He even recently topped the Vanity Fair power list of innovators.
On the one hand we hear about Amazon's diverse investments, including the recent purchase of The Washington Post; on the other hand we hear about how the work culture is very hectic. If the work-life balance is so hectic and crazy at Amazon, what still attracts people to the organization, helping it reach new heights each day and pushing Bezos to the ranks of the most respected CEO? It is Jeff Bezos himself—the iconic figure of the company—including his grand ideas, innovation, vision, and diversification plans for the company.
Bezos' empathy for customers is widely acknowledged, and his personal attention to mail from customers—including addressing them via internal escalations—is definitely noteworthy. His drive for innovation and his well thought-out diversification strategies are also valuable traits that stand out. The Museum of History and Industry recently opened an Innovation Center in Seattle to showcase industry innovation and named it the Bezos Center for Innovation.
Every now and then Bezos shares his success tips, and he is even being looked at as the technology world's leading philosopher CEO. Most often he talks about customer empathy and being stubborn on vision—or conviction, even when others don't believe in you—as core success factors. His customer empathy is often said to extend beyond limits, even if it means a short term loss for Amazon. Another reason for Bezos' success is his wiilingness to learn from his own and others' failures, which is evident in the case of AmazonFresh.
CEO performance is an interesting area of study for analysts, and some studies include details such as the top performing CEOs' marital status, family size, physical appearance (glasses, hairline, etc.), and geographical composition. The industry continues to learn valuable lessons from successful and well-respected CEOs. Jeff Bezos' traits as a successful CEO are not only lessons for other CEOs but also for all of us in our professional lives.
Up Next