Mobile Has a Major Presence This Holiday Shopping Season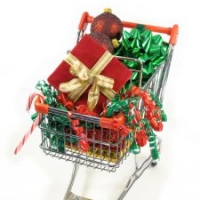 When it comes to shopping for gifts this holiday season, there is one trend that consumers are overwhelmingly embracing: mobile devices. Mobile is more popular than ever, for people filling up virtual shopping carts from the safety of their homes as well as for the die-hards hunting down presents in department stores.
Mobile commerce continued its surge on the biggest shopping day of the year, Black Friday.
IBM's Benchmark reporting unit tracked data for eight hundred online retailers and millions of transactions on the shopping day. It showed that online sales were up 19 percent this year over the same period for 2012. By IBM's numbers, that makes this year's e-commerce sales record-breaking.
Mobile shopping is included within that market, and it had an even stronger growth. Mobile traffic on Black Friday accounted for 39.7 percent of total online traffic, an increase of 34 percent over last year. And mobile sales grew to 21.8 percent of all online sales, an increase of 43 percent from 2012.
Smartphones were the mobile device of choice for browsing, bringing in 24.9 percent of all online traffic on Black Friday, compared to tablets at 14.2 percent. But when it came to actually making purchases, tablets won out with 14.4 percent of all online sales—double that of smartphones, which came in at 7.2 percent of all online sales.
As more data tallying Black Friday and Cyber Monday sales and online shopping behavior come in this week, marketers will be able to make tweaks for the rest of the mobile shopping season.
Most retailers have taken a different approach to the season due to the shorter time between Thanksgiving and Christmas. There are only twenty-seven traditional shopping days this year compared to last year's thirty-three. A few days may not seem like it would make much difference, but it can mean millions (or even billions) of dollars in sales. Consequently, retailers delivered more personalized marketing offers through mobile efforts last week to try to win shoppers' attention. From Adobe:
Retail­ers will be able to off­set those lost days and drive online sales by focus­ing on spe­cial hol­i­day apps, inno­v­a­tive social media cam­paigns, free express ship­ping for last minute shop­pers, and early pro­mo­tions well before Black Fri­day.
The majority of holiday purchases still happen in stores, but even people who prefer to do their buying in brick-and-mortar locations are relying on mobile devices more than ever this season. Among this consumer set, mobile phones act as shopping companions, letting people engage with retailers, find coupons, or check item prices.
Trends like these are predicted to continue into the few remaining shopping days.
Vicki Cantrell, executive director of the National Retail Federation's digital division Shop.org, told the Philadelphia Business Journal:
Recognizing that mobile was going to be a big driver of weekend sales, many companies planned well in advance to have their mobile websites and apps cleaned up and their supply chain operations ready for record-breaking digital holiday traffic. We expect to see more focus on mobile as we head into December as companies look for unique ways to compete this holiday season.
Up Next