Technology Trendsetters: Are They Start-Ups or Established Companies?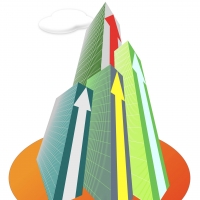 At the end of each calendar year, the typical ritual in the technology world is to look back at which technologies did well in the past year and what the upcoming trends are. Several reports are usually published where experts share their thoughts on trends.
Predicting trends is an important element, but it's more important to see who the trendsetters are—who is implementing the trends and carving a niche for themselves by helping the trend mature into an ongoing practice. Are they the start-ups? Are they the more established software makers?
In the current year and into 2014, some of the popular trends continue to be big data computing, wearable computing, interactive computing, and the Internet of things. If we closely analyze these trends and what the core attributes are that empower an organization to be a trendsetter rather than a trend follower, two major traits emerge—visionary thinking and innovation.
It is often easy to get trapped in mundane processes and executional practices when building on existing products to survive in the marketplace. Visionaries play a crucial role in foreseeing new trends and empowering organizations and the market to embrace them—an aspect that is important for an organization to not only survive but also thrive.
However, visionary thinking bears only half the weight in setting the trend. It has to be backed with adequate innovation engineering—typically in a research and development lab or incubation center—to help the trend see the light of day. When it comes to whether such trends typically take shape in established firms or in start-ups, both have an equal share to play.
Amazon has led the cloud engineering space with EC2. Apple carved an edge for itself with the App Store model. Google has pioneered several innovations. While they have a large number of engineers working on core ongoing projects, established firms often have the required financial flexibility and visionary thinkers to help set trends. However, the visionary thinking has to be supported by visionary leadership top-down—all the way from the board.
Start-ups may not have the financial backing, but they often have more buy-in, commitment, and focus in driving trends at a much faster pace to help them raise the required funds to showcase their idea. A lot of forums have been helping start-ups showcase their ideas and potential to help them get the recognition of innovation drivers. Also, there is no dearth of visionary thinking in the start-up space, whether it is run by young minds or by senior employees with several years of industry experience.
After all, visionaries are not bound by age or experience. They are differentiated by their traits, which enable them to visualize and shape trends that we all get to witness.
Up Next