Bring Your Own Device—We Have Arrived!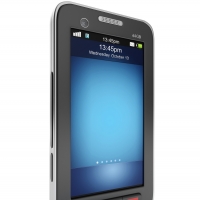 With Blackberry as good as dead, is anything filling the vacuum in the corporate mobile market? In the past eighteen months we have seen a radical shift in the way companies use mobile devices in the workplace. Bring your own device (BYOD) is more popular than ever, but the type of devices has flipped.
Android is king with 75–81 percent of the market depending on your source, iPhone has fallen to about 17 percent, and Blackberry is becoming history at about 2 percent.
Now that the former RIM is fading as a company, BYOD is more than ever the most logical way for companies to capitalize on the latest technology. The pressure is quickly mounting to support BYOD and provide a more flexible enterprise-friendly mobility solution.
As more people switch to using mobile with computing and data features as their home communications device of choice, more are balking at the prospect of carrying two devices—one for home and one for the office. At the end of 2013, smartphones—generally either iPhone or Android—represented 25-30 percent of all mobile phone subscriptions, yet they account for the majority (55 percent) of mobile phones sold in Q3. Projecting future trends, it is just a matter of time before they represent the majority of mobile subscriptions. 
The best approach to implement a BYOD policy is to choose a set of devices to support and decide what applications should be available to start. Email is a good application to start with because it is relatively easy to implement and has little if any need for writing integration software.
Supporting Apple's IOS and Android would be the most logical place to start because between the two they currently represent more than 90 percent of the market. Another option is the Windows phone. Introduced in October 2010, it has built-in Active Directory support and other enterprise-friendly features. 
There are some things to watch for on the technology side. BYOD also means that IT could be supporting a bewildering and ever-changing plethora of platforms with about ten new devices coming out every six months. One way to solve the dilemma is to take advantage of the emerging set of cloud-based mobility management services. 
Mobile Device Management service offerings range from products from cloud-based companies such as MobileIron and Air-watch, veterans such as Good Technologies (which has been through a number of name changes and ownerships) and Fiberlink Communications (acquired by IBM in November 2013), and longtime heavyweights such as Verizon and AT&T.
For the security sensitive, consider using a secure gateway service, such as Verizon's PIP Wireless. All are designed to allow enterprise employees to use their own mobile devices safely and securely on private corporate networks. 
Coming in the near future is the ability to install virtual environments on mobile devices, which will allow employees to use the same device for securely accessing the corporate systems and effortlessly switching back to a different profile for home use.
Up Next