Google Glass Now Accepting Your Vision Prescription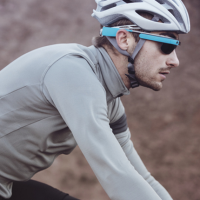 Will Google Glass eventually get beyond a trending hashtag on Twitter and be embraced by the general public?
The head-mounted, Internet-connected computer frames do cool things. After all, the Sacramento Kings have broadcast Google Glass views live on their jumbotron during home games. The original style seems to be, for the most part, acceptable to the early testers who are dubbed "Glass Explorers."
Of course, the high-tech frames have already been parodied in a skit on Saturday Night Live, and late-night host Conan O'Brien has cracked a few jokes as well. To many, they just look, well, weird and maybe a little too nerdy.
But with a public launch of Google Glass planned for later in the year, its widespread adoption may have gotten a step closer. Google has announced the availability of frames in more fashionable styles, optional attachments for detachable sunglasses, and the much-requested prescription lenses. "If we had a nickel for every time someone has asked about prescription lenses for Glass...well, we'd have a lot of nickels," says Google.
Google announced the Titanium Collection—four new "feather-light titanium frames" for Glass in varying colors and styles. There are also sunglasses, including twist-on shades with polarized, impact-resistant lenses from Maui Jim and Zeal Optics.
In addition, if you need prescription lenses and have vision insurance, such as VSP Vision Care, your policy might even help cover the frames. According to the VSP blog, VSP Glass Preferred Providers are specially trained on Glass to measure, recommend, and order the right prescription lens and fit them properly. 
And for a look at another potential app with Glass, the video below is of a Glass Explorer, a Rocky Mount, North Carolina, developer and firefighter who is building Glassware that he hopes "could one day help firefighters by providing hands free access to the information they need, when they need it." If this firefighter's Glass application pans out, who cares how it looks?
Up Next