Google to Startups: Move Out of That Garage to a Tech Hub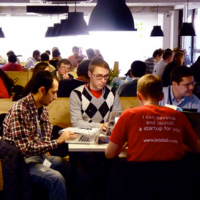 Remember back in the day when hopeful entrepreneurs toiled away in a lowly (and lonely) garage, and a few went on to start companies that eventually came to be worth billions?
The startup garage is the stuff of legends, and of course the most famous one—where Steve Jobs and Steve Wozniak sowed the seeds that became Apple—has been named a historic site. Bill Gates and Paul Allen got Microsoft going in a garage too, as did Bill Hewlett and Dave Packard, co-founders of Hewlett-Packard, and Larry Page and Sergey Brin, Google's co-founders.
However, Google believes today's startups benefit from a boost to get going and could use much better digs than a garage.
With the thinking that the Next Big Thing comes from somewhere other than Silicon Valley, Google for Entrepreneurs was rolled out as an umbrella effort of Google's programs and partners to support startups and entrepreneurs in more than one hundred countries. Last year, Google launched a Tech Hub Network partnership where today's startups can move beyond a garage operation to a co-working space with access to technology, mentors, desks, and some atmosphere. 
Google just announced Austin's Capital Factory is the eighth space to join the Network. Others in the North America program so far: AmericanUnderground (Durham); 1871 (Chicago); Coco (Minneapolis), Communitech (Waterloo), Galvanize (Denver), Grand Circus (Detroit), and Nashville Entrepreneur Center (Nashville).
Another perk is that when traveling these startups are now able to work for free at any of the other Network tech hubs or at Google's Campus London and Tel Aviv.
On the Google blog John Lyman, Head of Partnerships, Google for Entrepreneurs, wrote about how the concept is working out:
In just over six months, the Tech Hub Network is already having a dramatic effect on entrepreneurs around North America. Seventy-one percent of startups say their hub is having a significant impact on their growth, and companies from the Network have raised more than $50 million and created 1,200 jobs since becoming members. Just last month, we hosted a Demo Day for these hubs, where 10 startups raised millions of dollars to help grow their businesses.
Another perk that you don't get from the garage next door: the official welcome to the Network video for Austin.
Up Next