Why Microsoft Launched Office for iPad as a Freemium Offering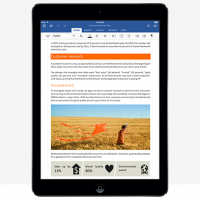 Microsoft recently announced the availability of Office for iPad. It is available as a free download but only for basic features, such as viewing documents. To use advanced features, such as editing, you must have a paid Office365 subscription. Such a plan is usually referred to as freemium, which combines two types of business models: free and premium. So, why did Microsoft choose to go the freemium route for Office for iPad?
The book Product Strategy for High Technology Companies indicates that the choice between being first-to-market or being a fast-follower can make a huge difference to the product strategy. After the iPad was first launched in 2010, it took almost four years for Microsoft to release a compatible Office version. Did Microsoft deliberately choose to be a follower, like some companies do?
Mashable has stated that Microsoft started to think about designing Office as soon as the iPad was launched. Microsoft wanted to first release Office for its touch-friendly version called Windows RT. Since even the non-Office applications needed to be coded from the ground up on the tablet's ARM-based processor, Microsoft decided to offer Office free on Surface tablets as a key selling proposition. It appeared to be a strategic decision to proceed slowly on Office for iPad development because the earlier launch would have made Surface tablets less attractive for consumers to buy.
Microsoft chose to be a follower by offering Office for iPad based on its strategic intentions. It obviously didn't choose the freemium model because it had to test the waters. It chose freemium as a means to capture any lost ground faster as it helped nullify the price entry barrier for consumers. This is probably something that made Office for iPad the most popular app immediately after launch.
Per the Harvard Business Review, in order for freemium to be successful, the feature balance between free and premium versions is crucial. Free features should be compelling enough for the users to install the app, and the premium features should be just as compelling, enabling users to convert to a paid subscription.
Printing was one of the features missing in the initial launch. In the quest to make the free offering more captivating, Microsoft was quick to launch an update for the free version, enabling users to print documents. This quick reaction helped Microsoft retain user interest.
The key purpose of the freemium model is to attract new users. The freemium model enables a company to build a user base, which in turn provides a constant source of feedback. This helps organizations innovate faster, which is critical to the success of a freemium offering.
As Microsoft CEO Satya Nadella stated, Microsoft's Office agenda is "straightforward: Make sure users have access to high fidelity experiences on every device they want to use." Its late entry in the tablet segment led to many early players offering Office-type apps. The Office for iPad freemium offering has enabled Microsoft to take steps in the right direction to create magic similar to Office for desktops in the past.
Up Next