Can Big Data Make HR Decisions More Objective?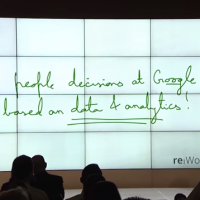 As mentioned in the book How Google Works, most conference rooms at Google have two projectors. One of them is for videoconferencing or for projecting meeting notes, and the other one is for data.
It is apparent that internal operations at Google have a tremendous bias towards data, and the human resources function is no different in this regard. At the recent re:Work Conference, Google's VP of People Analytics, Prasad Setty said "All the people decisions at Google are based on data and analytics." The emergence of big data in HR seems to be a trend that has the potential to revolutionize how people decisions are executed in organizations.
A recent LinkedIn post by Laszlo Bock, Senior Vice President of People Operations at Google, revealed some interesting insights beyond the traditional areas of human resources management. It revealed that "Google's People Operations Analytics team recently found that being grateful -- and expressing it -- can be the secret weapon to workplace happiness and to warding off the malaise that can come with routine."
This establishes a link between employee satisfaction and engagement with the choice of being happy, and the study mentions that gratitude creates a virtuous cycle: the more you express it, the happier you are at your workplace and in life in general. You can always argue that this is an obvious observation, but when supported by data, it adds more credibility and objectivity to the statement.
The usage of data analytics in critical HR functions such as hiring is not entirely new, and with more data available, it is evolving for sure. An article in The Washington Post mentioned that the San Francisco-based company Gild helps software companies recruit programmers through an algorithm that analyzes their language on professional-networking sites.
The evolution of technologies such as machine learning and artificial intelligence are making data inferences more meaningful with more data being collected. Some of the companies have used more objective data analysis for crucial decisions such as promoting an employee. 
Google even came up with an equation that helped them determine which employees makes the cut for promotions. Once Google applied the equation with real-time data about the candidates, they experienced 90 percent accuracy for the chosen sample.
The system was not well received by the people who it was meant for. There were factors beyond the accuracy of the equation that led to this reaction. In the words of Prasad Setty, "They didn't want to hide behind a black box, they wanted to own the decisions. They didn't want to use a model to do so."
There are limitations to the extent that a data-driven approach can be applied to the areas of human resource management. Data can be a great ally and friend, but it can't be the sole basis of decisions. The influence of big data will certainly make HR functions more objective, but people should make people decisions—albeit with the help of data.
Do you agree?
Up Next