NASA Challenge: Design a Smartwatch App Interface for Astronauts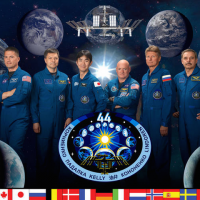 Here's a contest that developers may find intriguing. What if whenever astronauts on the International Space Station (ISS) check their smartwatch, the interface they depend on was designed by you?
As part of NASA's effort to use crowdsourcing for new technologies in advancing space exploration, as well as to generate interest among the public, there's a new NASA Challenge: design a smartwatch app interface for astronauts. From the post on Freelancer.com, the new design will be used for some of these functions:
Agenda view of the crew's timeline, as well as a way to easily navigate to a previous or future date. This function is now viewed on laptops or tablets. 
Color-coded cautions and warnings
Communication status with ground control through voice and video
Timers application for multiple procedures and activities, as well as providing feedback
As for the requirements, the Samsung Gear 2 should be used as the hardware reference. Submissions should be picture (PNG or JPEG) wireframes that show the design's navigation, interaction, layout, look, and feel.
Interested? There's a reward of $1,500 for the winning app—which admittedly isn't a huge payout)—but think about the bragging rights! The astronauts will be depending on your design.
The current contest is part of an ongoing series through NASA's Center of Excellence for Collaborative Innovation (CoECI). For details, check out the NASA Tournament LabChallenge page on Freelancer. As one participant posted, "Let the best programmer-who-also-wanted-to-be-astronaut win :)"
If you're curious about what astronauts do on the International Space Station all day, there are videos that explain their daily routines. Did you know astronauts have to exercise approximately two hours per day to prevent bone and muscle loss? And it's probably more convenient for an astronaut to check their smartwatch, rather than a tablet or laptop. What do you think?
Up Next