Cyber Threat Predictions for 2016 and Privacy Protection Tips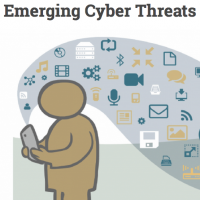 Swipe your finger across an end table in your house and you might be amazed at the dust that accumulates if you don't faithfully keep up with housekeeping chores. But there's another type of dust, much more toxic, you may not even be aware that you're collecting. Do you know how much digital dust you're leaving? Most people don't know what's in their digital breadcrumbs or pay attention to how the companies that are collecting this data are using it.
The growing proliferation of digital dust is one of the key findings from the 2016 Emerging Cyber Threats Report issued annually by the Georgia Tech Information Security Center and the Georgia Tech Research Institute. The Georgia Tech Research Institute is the nonprofit applied research and development arm of the Georgia Institute of Technology in Atlanta.
"There is a general lack of understanding about how much digital dust people are leaving around," says Andrew Howard, director of the Cyber Technology & Information Security Laboratory at the Georgia Tech Research Institute. "There is a drastic need for two things: Education and technology to focus on the problem."
The exponential growth of the Internet of Things, or network-connected devices and sensors, means third parties have unprecedented access to monitor and measure our activities. Consumers must trust their mobile devices, but the report warns that proper technology safeguards do not yet fully exist.
As consumers, what can we do to protect our privacy? Noting that consumers have little control once they opt-in online, Georgia Tech researchers have several suggestions:
Use software that blocks tracking cookies, and delete cookies regularly.
Use anonymizing networks, such as Tor.
Don't download apps unless you need them, delete them if you won't use them again, and opt-out of location tracking if practical.
Don't use the same password in more than one setting.
Use back-up systems that you control (such as external hard drives), rather than only cloud-based services.
Georgia Tech warns that cyber threats and espionage shows no signs of abating, which is no surprise. The Georgia Institute of Technology has formed an interdisciplinary research collaborative—the Institute for Information Security & Privacy—to develop solutions for national and individual security. For more information, download the 2016 Emerging Cyber Threats Report at www.gtcybersecuritysummit.com.
However, accidental data leaks due to human error are a source of concern as well. The Atlanta Journal and Constitution and other news media reported that a disk containing the private data of more than 6 million Georgia voters, including Social Security numbers, birth dates, and other private information, was sent to 12 groups that subscribe to voter lists maintained by the state. The Georgia Secretary of State's office posted official notification of the breach as well as fraud alert and credit freeze information that anyone can take if they suspect their personal information may be at risk.
Up Next