So You Want to Go to Mars? NASA Is Recruiting Astronauts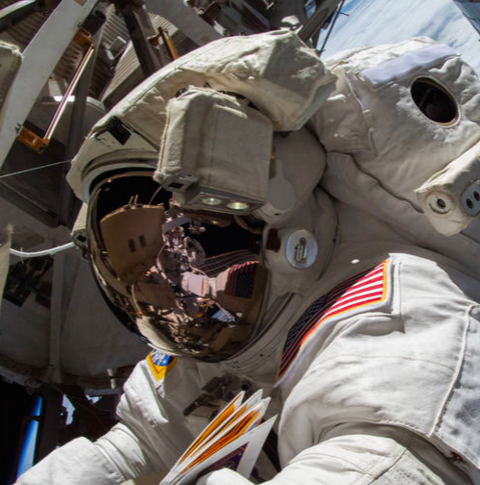 Did watching Star Wars: The Force Awakens get you thinking about a career exploring the universe? Maybe Santa brought a drone—that you registered, right?—but you aspire to fly something bigger and better?
NASA's on a mission to Mars and is currently accepting applications for the next class of astronauts through February 18, 2016. If you're considering it, NASA posted 5 Signs You Might Be Ready to Apply to be an Astronaut on its Tumblr account.     
The #1 sign? You're okay with having roommates. Other prerequisites: you love galaxies, space station research, and deep space exploration; crave adventure; and conducting cutting edge research excites you. Finally, you should not be afraid of heights.
NASA was recently named the best place to work in the federal government for the fourth year in a row. After all, how many of us can look out of our glass bottom spaceship and share spectacular views like the ones from @StationCDRKelly on social media? NASA astronaut Scott Kelly tweeted a recent view from the International Space Station: "Look! It's the moon! By my toe! #YearInSpace."
NASA's requirements for its astronauts have evolved over the years. According to Brian Kelly, Director of Flight Operations at NASA's Johnson Space Center in Houston, "Some people would be surprised to learn they might have what it takes. We want and need a diverse mix of individuals to ensure we have the best astronaut corps possible."
Do you have the right stuff to be a sky walker? Contrary to what you may have heard, you don't need to be a pilot, have 20/20 vision, an advanced degree, or military experience. NASA is looking for astronauts with a wide variety of backgrounds, including engineers, scientists, and physicians. Astronaut candidates' requirements include:
A bachelor's degree from an accredited institution in engineering, biological science, physical science, computer science, or mathematics. An advanced degree is desirable.
At least three years of related, progressively responsible professional experience, or at least 1,000 hours of pilot-in-command time in jet aircraft.
Must pass the NASA long-duration astronaut physical.
Another necessary part of the job: frequent travel may be required. Obviously.
Final candidates are expected to be announced in mid-2017. Those chosen may fly on any of four different U.S. spacecraft: the International Space Station, two commercial crew spacecraft currently in development by U.S. companies, and NASA's Orion deep-space exploration vehicle.
Qualifying U.S. citizens may apply at https://www.usajobs.gov/GetJob/ViewDetails/423817000.

Up Next