Hurricane Season 2016: Luna and Surge Are Ready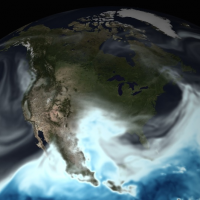 The 2016 hurricane season is upon us and NOAA, the U.S. National Oceanic and Atmospheric Administration, has more than tripled computing forecasting capacity thanks to two new Cray supercomputers the agency calls "Luna" and "Surge".
Located at computing centers in Reston, Virginia and Orlando, Florida, Luna and Surge are fast. How fast? According to the announcement, NOAA's Weather and Climate Operational Supercomputer System is now running at petaflop level.
Each supercomputer is running at 2.89 petaflops, a total of 5.78 petaflops of operational computing capacity, which is an almost four-fold increase compared to last year's 776 teraflops of processing power. The added capability enables forecasters to process and analyze weather, water, and climate forecast models at quadrillions of calculations per second.
"The faster runs and better spatial and temporal resolution that Luna and Surge provide will allow NOAA to improve our environmental intelligence dramatically," says Kathryn Sullivan, Ph.D., NOAA's administrator.
For example, NOAA will be able to now forecast eight hurricane tracks at any given time, as well as better predict the timing and precipitation in winter storms and more accurately predict droughts and floods.
Another upgrade made possible by Luna and Surge: the U.S. Global Forecast System (GFS), NOAA's primary weather forecast model, is now 4-D, with time as the fourth dimension. The GFS model now runs hourly forecasts out to five days, instead of every three hours as before. Hourly output has also allowed for new and improved icing information for aircraft.
In an interview with the Tampa Bay Times, Vijay Tallapragada, chief of the Global Climate and Weather Modeling Branch at NOAA's National Centers for Environmental Prediction, noted that the category intensity of a storm can now be predicted two to three days in advance, instead of one to two days. The timing advantage would have been very handy for past storms, such as Charley, Katrina, and Andrew.
For hurricane season 2016 updates:
Twitter: Follow Atlantic Tropical Cyclone Feed @NHC_Atlantic and Eastern Pacific Tropical Cyclone Feed @NHC_Pacific.
To access the two-day graphical tropical weather watches and warnings from your phone or tablet, bookmark http://www.nhc.noaa.gov/gtwo.php?basin=atlc&fdays=2.
Up Next