IBM's Watson Will Help You File Your Taxes at H&R Block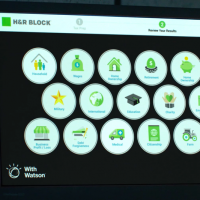 Tax season is upon us, and if you're not using artificial intelligence to figure out your return, you're just not filing like it's 2016.
Customers at H&R Block will soon be able to get tax advice from IBM's famous supercomputer, Watson. Starting February 6, Watson's cognitive computing technology will be available to clients in the tax preparer's retail locations to answer questions, uncover deductions and credits, and help calculate refunds.
Watson will use its natural language processing to interact with clients and connect the dots from their answers to the tax documents. Parsing this type of information and relating it to all that data is just the sort of task machines tend to perform better than humans, and as proven on Jeopardy!, it's what Watson was made for.
In preparation, Watson has been fed all 74,000 pages of the US tax code. H&R Block also gave IBM dozens of common tax questions to train Watson to understand how to respond to client queries, and tax preparers and customers have been testing the software for months and grading it for accuracy.
The accountants will still be there, but Watson can provide some additional expertise. When customers go into H&R Block and sit at the computer, Watson will ask questions about their year, focusing on events that could offer deductions or credits, such as selling a house or having a child. It's a standard part of H&R Block's service, but the company hopes that by giving Watson this data—along with answers provided by the human tax preparers—they can improve performance.
H&R Block's George Gaustello told The Verge that Watson will act as a central repository for tax experts' knowledge. "We have 70,000 experts, but let's say 500 of those are very knowledgeable about firefighters, or they know every credit deduction a farmer can get," Gaustello said. That information then becomes part of Watson's database, which offers additional advice, "making our experts even smarter," he said.
Watson has already been used extensively in other data-heavy fields such as health care, retail, and customer service, so tax preparation is a logical extension. H&R Block said this is the start of a multiyear partnership, and the plan is to expand Watson's knowledge each tax season. As it receives more and more tax documents, the artificial accountant will only get more accurate.
Up Next