Celebrate Earth Day 2018: How You Can Help Reduce Plastic Pollution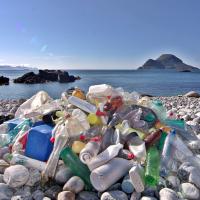 As we gear up for Earth Day 2018 on Sunday, April 22, the word is plastics. No, this isn't a flashback to the Mike Nichols's film "The Graduate," where a young Dustin Hoffman not only finds himself on Mrs. Robinson's radar, but a sleazy friend of his parents takes him aside at his college graduation party and gives him career advice: "One word: plastics."
That was then. Plastics are undeniably useful, but now experts tell us we've got too much of this good thing. Managing plastic waste is one of our most pressing environmental problems.
Kathleen Rogers, President of Earth Day Network, writes in a blog "...multiple studies have found that 94 percent of our drinking water and 93 percent of sampled bottled water worldwide are full of plastic particles and chemicals, including BPA, heavy metals, phthalates, pesticides, PCBs and other chemicals, many of which are linked in animal studies as well as some human studies to cancer, premature puberty, reduced immunity, birth defects, endocrine disruption, insulin resistance, and other major diseases."
The problem is that plastic never fully degrades in the environment, and every item of plastic we've consumed still exists, according to the Earth Day Network, the non-profit behind Earth Day. Depending upon where we live, plastic items end up in the ocean, and the results can be heartbreaking to marine life. 
Since plastics can't efficiently be recycled as yet, it's time to focus on reducing our own level of plastic consumption, both as individuals and businesses. How can we help? The End Plastic Pollution campaign for Earth Day 2018 encourages all of us to do our part to reduce our plastic pollution footprint. 
An online Plastics Pollution Calculator lets consumers calculate the amount of disposable plastic used in a year and offers ways to reduce the plastic pollution.

Remember the 5 Rs: Reduce, Refuse, Reuse, Recycle, and Remove.

Ask yourself every time that you're considering buying or using a disposable plastic item: Do I absolutely need this? Can you drink without using a plastic straw? (The new mantra is Don't Suck). Try to bring your own bags when shopping.

Many companies are giving every employee refillable stainless steel water bottles with the company logo. It's a great green branding idea and helps discourage single-use plastic bottles.

Look up products on the Internet, and choose products that have natural exfoliators instead of products containing microbeads.
Properly dispose of plastic products, and never toss them near waterways, beaches, or in open spaces.
Earth Day marks the anniversary of the birth of the modern environmental movement in 1970. By the end of that year, the first Earth Day had led to the creation of the United States Environmental Protection Agency and the passage of the Clean Air, Clean Water, and Endangered Species Acts. Maybe this year, we'll see the beginnings of the end of plastic pollution.
Up Next