Failing to Staff Turnover: A False Economy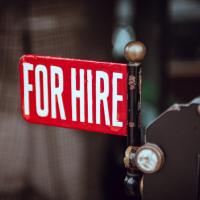 In a time when we are recognizing the invaluable contribution of individual knowledge workers in building systems and managing the building of systems, why don't we have administrative policies that respect the need for knowledge transfer and overlap whenever possible?
I've encountered several examples lately that made me cringe:
A consulting friend has been managing a complex, mission-critical project for nearly two years. Her contract expires in a few weeks, and the client has "not been able to spare someone for turnover." They say they can't afford it.
A public sector client employs a grizzled veteran who has deep organizational knowledge of mission-critical systems. This person is about to retire. According to their personnel rules, this person cannot be replaced until they have left—there is no opportunity for turnover to the replacement.
I once did a project review on a complex, high-risk project that was going surprisingly well. Most of the team was relatively inexperienced, but when I reviewed project artifacts before my visit, they appeared to be good quality, and the processes and procedures seemed "just right"—not needlessly bureaucratic, while seemingly still rigorous enough to manage the effort well. 
The only person on the team with significant experience on a project of that magnitude was the project manager running the show and responsible for defining the policies. I arrived at the site to do the review and discovered two troubling facts:
The project manager was working long hours and didn't have a backup
She was seven months pregnant
I'm amazed that many organizations don't seem to take knowledge transfer more seriously.
When I was in the military, not only was there a clear chain of command and line of succession, but everyone had a "buddy" who was trained and responsible for being able to pick up the work of their partner in case of an unexpected emergency.
Bringing new people, even smart and experienced ones, up to speed is a slow and expensive task. It initially consumes so much time for senior staff to orient and guide the new hire that it is usually a net loss of resources for the first month or two. Scheduling a few weeks of overlap for knowledge transfer from senior staff when you know someone is going to leave seems like an obvious choice, yet it's still rarely made.
You may not be able to change organizational policy, but it can never hurt to ask for what you want. Getting someone in to shadow a person you know is leaving for a month or so is common sense. It is also significantly less expensive than trying to reconstruct information from the bread crumbs and artifacts that remain after a senior staff person has left a project.
Up Next